CRITIQUES & REVUES LITTERAIRES
Around the world / Autour du monde…
North America: Confrontation, Amelia, Cicada,The Linden Lane Review, Potpourri, Pearl Muse,  The Voyeur, Kindred Spirit,  Art/Life magazine, New Thought Journal, Negative Capability, O'zone, St. Cuthbert's Treasury Annual, Manna, Poetry Northwest, Ally, The Third Eye, The Literary Review, Unveiling, Confluent Education Journal, Verve, Pandora, Frank,The Ecphorizer (a Mensa review), Eureka Literary Magazine, Seedcloud, A Writer's Choice Literary Journal, Academic & Arts Press, Snow Summits in the Sun Anthology (The Cerulean Press), The Plowman, Légèreté Press, Skyline magazine, Phoenix, River King Poetry Supplement, The Poet, Zephyr, Unveiling, Philadelphia Poets, Quest Publications, Asylum, Postscriptum, Waves, Iliad Press, World News, A Different Drummer, Termino, The Poetry Conspiracy, The New England Anthology of Poetry ; The Review of Contemporary Fiction, Archaeology Impulse (Copyright University of Toronto, 2005), Books In Canada, Oasis magazine (Arizona, 2008).

Great Britain: Ambit, The Edinburgh Review, Passport, Interactions, Orbis, Lines Review, Chapman, Peninsular, Helicon, Reach, New Hope International, Passport, Psychopoetica, World Wide Writers, The European Journal of Psychology, Prospice, Envoi, Poetry Now, Presence, Time Haiku, The Haiku Quarterly, The Acorn Haiku Anthology, Still, Retort, Buzzwords, Sepia magazine, The Yeats Club, Prospice,  Stirred not shaken.

India: Poet, Quest, Chandrabhaga, Replica magazine, Wanderlust, Parnassus of World Poetry, International Poetry, The Still Horizon anthology, The Millenium Peace annual anthologies, The Taj Mahal Review / Cyberwit.net/



Australia: Dreams & Visions.

Africa: Okike (Chinua Achebe's Review), Prize Africa (Zimbabwe), Papier blanc Encre noire (Kinshasa / Brussels), http://www.boloji.com/memoirs/104.htm - essay by Dr Amitabh Mitra (South Africa) on Albert Russo's African novels.

Continental Europe:
The International Herald Tribune (Paris), Cosmopolitan (Dutch edition), Playboy magazine (French edition), La Nef des Fous, Place aux Sens, L'Autre Journal, Labor, Libération, Poètes et Romanciers à la Bibliothèque Naguib Mahfouz, Les Cahiers du Sens, Odra (Poland), The Auschwitz Foundation Bulletin, Sivullinen, Stranger than Madness, Fremde Verse, Los Muestros, Plurilingual Europe. 
Albert Russo's Poetry prizes and accolades include: 

in the US: An honorable mention in the 2000 Robert Penn Warren poetry contest and Editors' choice in 2004, several Amelia (California), Pearl Muse  and New York Poetry Forum awards, Marguerette Cummins Broadside Award, Editors' choice award at the National Library of Poetry, Southern California Poetry contest award, etc. His His large collection encompassing 30 years of poetry, The Crowded World of Solitude: Volume 2, was a Runner-up in the 2008 BEACH BOOK FESTIVAL  sponsored JM Northern Media of Hollywood, CA - Their properties include The DIY Convention: Do It Yourself in Film, Music & Books; The DIY Music Festival; The DIY Film Festival; The DIY Book Festival; The New York Book Festival; The Hollywood Book Festival; OFFtheCHARTS.com; The DIYReporter.com; BookFestivals.com; and this site.

in the UK: The Yeats Club Poetry Award of Merit, several Reach awards and honorable mentions, 2 Best Overseas Poetry awards from the annual AAS (Eileen & Albert Sanders) poetry competitions, Interactions Poetry Award (Jersey), 2003 Forward Press 100 Poets (selected from over 50,000 entries), etc. 

in India: the 2002 Millenium Michael Madhusudan Academy Award for Poetry (including a five-day invitation at their Calcutta venue), several poetry awards and honorable mentions from The Poet and Parnassus World Poetry, etc.
*Winner of the 2008 AZsacra International Poetry Award sponsored by the Taj Mahal Review, India - prize: 500 US$ -  http://cyberwit.net/

in Norway : He's been invited as a featured poet at the International Literature Festival held in Oslo during three days in September 2008.

in Malaysia : He's been invited as a featured poet at the Kuala Lumpur World Poetry Reading held in the country's capital from the 3rd to the 8th November 2008.
He's been a member of the jury of the Prix Européen for over 25 years (sitting on the panel with Ionesco until his death) and sat in 1996 on the panel of the prestigious Neustadt Prize for Literature, which often leads to the Nobel Prize.
Visit his literary websites, describing his 55-odd books of fiction and poetry in his two mother-tongues, English and French, which include 25 photobooks
www.albertrusso.eu  + www.authorsden.com/albertrusso
Comments on a variety of Albert Russo's work:
JAMES BALDWIN: on Mixed Blood and other works. "l've read everything you sent me and l like your writing very much indeed. It has a very gentle surface and a savage undertow. You are saying something which no one particularly wants to hear and saying it, furthermore from a particularly intimidating point of view. You're a dangerous man."
JOSEPH KESSEL (Académie Française): "... l was very touched by the tone of your two books."
PIERRE EMMANUEL (Académie Française):. "... l want to tell you the pleasure l had upon reading those difficult, sensuous pages ... yet full of humor." 
DOUGLAS PARMEE (Queens'College, Cambridge, GB): "... l was particularly impressed by the remarkable range shown in such a small space, and the extraordinary command of the language." 
MICHEL DROIT (Académie Française): " ... Much imagination, sensitivity and quality of style ... one really feels your Africa." 
PAUL WILLEMS (Curator of the Brussels Museum of Fine Arts and Author): "From the onset l felt a new tone to which one cannot remain indifferent." 
About "Eclats de malachite" ("Splinters of malachite") : 
GEORGES SION, in Le Soir:"The author is endowed with rich experiences, a vast knowledge of languages and strong emotions which influence his style ..." 
Jeune Afrique: "... Largely autobiographical, this work is written in the manner of an exorcism, it is engrossing and reveals a very real talent."  Vie et Succès: "Nostalgia of childhood depicted by a great writer."
Mwanga (Zaire) : "".. a work of universal appeal ... the human message is the 'fetish' which vibrates in the author's book." 
About  "La pointe du Diable" ("Devil's Peak"):
ROBERT CORNEVIN in Culture française: "the author's sensitivity matches the quality of the descriptions." 
Vie Ouvrière, Paris: "...His prose is that of a poet wounded by the claws of a ferocious society."
Tribune juive: "In a very personal style, Russo denounces the shame of apartheid.  He speaks as a poet when describing the beauty of Africa."
Concerning his apartheid novel  "Le Cap des illusions", Ed. du Griot, Paris:
- Mensuel littéraire et poétique, Brussels: "...his discreet lyrical style in this novel has the quality of certain classics, yet at times, the author is closer to poets like Dos Passos or Aimé Césaire. From this eminent polyglot such forays are not surprising.  But above all, this is South Africa depicted by someone who knows it intimately well.  And Albert Russo succeeds in giving us a lesson in ethnology with a verve few masters could possibly match."
- La Cité, Brussels: "... Prudence is raised as a poor white Afrikaner, but one day, the apartheid witch sneaks into her new school under the guise of a freckled classmate, then, brutally, the little girl will be wrenched from her roots and thrust amid the Colored community of District Six, compelled to share henceforth the fate of the underdog.  Here, the absurdity of apartheid is scanned by a writer whose style is the reflection of his soul, in which language and culture constantly crossfertilize.  And, ultimately, he leads us to believe in a Cape of hope.
about "Futureyes / Dans la nuit bleu-fauve", his bilingual poetry anthology,
Ed. Le Nouvel Athanor, Paris: 
- The French Review, USA: "...this esthetically superb bilingual volume reveals the poet's shadowy and wild inner climate in carefully incized subtle gradations.  Within these inner confines, Russo invites us to penetrate his densely imaged cosmic verse.  Russo is an unforgettable poet who, time and time again, compels the reader to that ever fertile, elusive, and mysterious land of the creative artist." 
This review was signed by Bettina Knapp who has authored more than 45 books
on literary criticism.
- Mensuel littéaire at poétique, Brussels: "... this whole volume is an 'Emergency call' (title of one of the poems) to lost   brother / & sisterhood.

.
AUTHOR SPOTLIGHT  - Albert Russo
Whether it's setting the story in Senegal and Kenya, speaking of a wise child's deceptively worldly innocence, or recreating through a young African boy's joys and struggles of the tensions of modern life, author Albert Russo interlaces his stories around life's general issues.
Albert speaks seven languages and loves to interact with people of different cultures and horizons. He has lived in three different continents, which opened his mind to the world's variety of cultures and ways of thinking. Albert abhors any type of violence and especially those incited by the so-called 'men of god' whose sole preoccupation is power, revenge and murder, in other words terrorism, which is the plague of our century.
Albert Russo is well-known for his excellent books. He released his first book in 1998 called Zapinette Video through Xlibris. We invite you to look at his more than 20 trade and picture books, including 'The benevolent American in the heart of darkness', 'The crowded world of solitude', volumes 1 (stories) and 2 (poetry), as well as his photo books, 'Mexicana', 'Sri Lanka' and 'Italia Nostra', among others.
He is a recipient of many awards, such as the American Society of Writers Fiction Award, The British Diversity Short Story Award, several New York Poetry Forum Awards, Amelia Prose and Poetry Awards and the Prix Colette, among others.
"I have many inspirations, from people like Moses, Jesus, Buddha, Einstein, Nelson Mandela, Mahatma Gandhi and Muhammad Yunus who helps thousands of poor people set up their own small businesses. People who build, give hope and love to their fellow humans, as opposed to those who just want to destroy innocent lives thinking they will become martyrs," Albert says.
General introduction to Albert Russo's work by Martin Tucker: 
Albert Russo's art and life are all of a unique piece, and that piece is a plurality of cultures.  Born in what was then the Belgian Congo and now is Congo/Zaire, he grew up in Central and Southern Africa and writes in both English and French, his two 'mother tongues'.  With his intense interest in African life, the young Russo also engaged with knowledge beyond narrow stratifications of colonial custom.  As a youth he left Africa for college in New York (where he attended New York University).  For many years he has been resident in Paris.
Wherever he has lived, Russo has concerned himself with one hard-burning commitment: to achieve an illumination of vision in his writing that suggests by the force of its light some direction for understanding of human behavior and action.  He draws on the many cultures he has been privileged to know, and he is always respectul of diversity.  But Russo is no mere reporter.  While he works with words, and while his work is concerned with place and the spirit of place, he is more interested in visitation than visits.  Almost every fiction Russo has written involves a visitation, a hearing from another world that reverberates into a dénouement and revolution of the protagonist's present condition.  These visitations are of course a form of fabulism--that is, utilizing the fable as a subtext of the animal nature of man.  Russo's fabulism however is not in the line of traditional mythology (perhaps mythologies is a better term, since Russo draws from a variety of folklore and consummate literary executions).  In one of his recent fictions, for example, he writes of a man who falls in love with a tree--his love is so ardent he wills himself into a tree in order to root out any foreignness in his love affair.  Thus, Russo's "family tree", the mating of woodland Adam and Eve, becomes in his creation not only a multicultural act but a cross-fertilization of the cultures he has drawn from.  In this personal fable Russo suggests the Greek myth of Pan love and even the Adamastor legend, that Titan who has turned cruelly into a rock out of unbridled passion for a goddess.  Russo suggests other legends as well, and certainly the crossing of boundaries, psychological, emotional as well as physical and territorial--hybrid phenomena now sweeping into the attention of all of Africa and the Middle East--is to be found within the feelingful contours of his tale.  Fabulism is now a recognized presence in our literary lives.  It goes by other names: magic realism is one of them.  Underneath all the manifestations of this phenomenon is the artistic credo that creation is larger than life, and that the progeny created enhances the life that gave being to it.  In sum, the artist is saying that life is larger than life if given the opportunity to be lived magnificently.  Russo's is certainly a part of this willingness to experiment beyond the observable.  His fiction represents, in essence, a belief, in the endless perceivable possibilities of mind.  Its humor is at times dark, however, and perhaps this color of mood is a reflection of Russo's background and biography.  For his art, while enlarging, is not showered with sun.  His dark hues are those of ironic vision. Russo may be said to be very much a part of the end of this century.  His concentration is on the inevitabilities of unknowingness;  thus his resort is to the superrational as a way of steadying himself in the darkness.  At the same time his work cannot be said to be tragic, for the unending endings of his fictions suggest a chance of progress, if not completion of one's appointed task, worlds meet and become larger worlds in Russo's work; people change within his hands.  It is a pleasure to pay homage to Russo's achievement.
Critic and professor of English at C. W. Post of Long Island University, MARTIN TUCKER has published over twenty volumes of literary criticism, among them The Critical Temper, Modern Commonwealth Literature, and Modern British Literature (in Continuum's Library of Literary Criticism series).  He is the editor of the prize-winning literary journal Confrontation, and the author of Africa in Modern Literature and other works.  His poetry has been collected in Homes ot Locks and mysteries (1982), and appears in leading periodicals.  He is a member of the Executive Board of PEN American Center and has served on the Governing Board of Poetry Society of America.  He has also written a biography of Joseph Conrad and of Sam Shepard, both critically acclaimed.  He has also recently contributed to the Encyclopedia of American Literature (A Literary Guild Selection).
"ALBERT RUSSO: Poet as photographer / Photographer as poet".
Essay by Adam Donaldson Powell 
 published in the December 2007 issue of Taj Mahal Review, India
Of some fifty-five book publications to-date, eighteen of Russo's books are photographic essays.  These titles include impressions from travels around the world, quirkiness and humour in human experience, studies of sculptures, autobiographical essays with photography as the medium, and more.  Had Russo not had such a passion for art and literature, he would surely have had a fine career as a photojournalist for commercial publishers of travel books, travel guides and travel magazines.  However, Russo's inclination towards the artistic and social elements of human predicament and expression, coupled with his love of poetry, has resulted in a myriad of publications which effectively express poetic and literary curiosity through poetry's modern-day "first cousin": photography.  I use the word "curiosity" intentionally as Russo never forces his impressions upon us as an expression of "truth", but rather guides us through his own personal experiences and thoughts through visual exposés.  Sometimes the progressive order of photographs in some of his books can seem somewhat illogical as Russo presents us with his own "connections" between impressions as he sees them as an artist – rather than grouping photographs in an order that an advertising executive or commercial travel book might choose.  This is Russo's prerogative, his perspective .. and an important aspect of his own unique poetic expression. 
Some of his photography books are combinations of texts and pictures, and others are without texts.  The absence of titles is a bold artistic statement in itself, relying upon the strength and the progression of photographs themselves to tell the author's/photographer's personal story.  Personally, I prefer the books that consist of photographs alone as I do not always relate to the accompanying texts and find them sometimes to be as annoying as I find signatures on the front side of paintings (when the signatures not only do not add to the overall work of art, but actually detract from the viewing experience).  But this is a question of personal taste.  Having a background both within visual art and poetry, I – like Albert Russo – am capable of understanding the "poetry" in the photographic presentations without explanation or added literary decoration.  I think this is true for many (if not most) persons who enjoy photography books as works of art.
Russo's photographic essays to-date include: "A poetic biography", "Brussels ride", "Chinese puzzle", "City of lovers", "Granada", "En / in France", "Israel at heart", "Italia nostra", "Mexicana", "New York at heart", "Pasión de España", "Quirk", "Rainbow nature", "Saint-Malo", "Sardinia", "Sri Lanka", and his newest: "Body glorious" and "Norway to Spitzberg" (both released in 2007).  These are almost exclusively full-colour photos .. a medium which Russo plays with combining childlike naiveté and curiosity for the unusual aspects of the "banal", and exciting excursions into the nature and the planet's overall cultural diversity, with a broad palette of professional techniques.  Russo goes to great pains to mix traditional images with their contemporary partners and counterparts, and to play with exposure, light, filters and clarity/non-clarity in order to exaggerate aspects of the culture and to communicate his own personal experiences and sensations.  I would like to see a photographic essay by Albert Russo, in which he translates his interactive communication between photographer/poet and subject to the medium of black and white photography.  I am certain that Russo would find even more exciting nuances and enigmatic photographic puzzles through the usage of light, shadows, layers of greyness etc.,  which would even further enhance his natural highly-effective ability to penetrate beyond picture-taking .. and far, far into the inner energy forms and thoughts of his photographic subjects/objects and their surrounding environment/conditions.
Perhaps the most unusual photographic essay is his "A Poetic Biography", published in 2006.  The book is exactly what the title suggests: a collection of photographs of Russo, his family members and friends in various situations and environments, and  over a period of several decades.  Here Russo includes both photographs of people (colour and some black and white), photographs of letters and telefaxes, telegrams, articles on Russo as an author etc. – all without explanation or commentary.  In this way, Russo uses the classic "first person" style of prose-writing to create an almost surrealistic glimpse into the inner reaches of Russo's personality, history, personal life, ambitions and self-identity.  The book leaves us with a yearning to discover that personal aspect which Russo has not commented on, but which most other artists and authors usually make no bones about proclaiming ad nauseam: namely, his dreams .. and what his life might have been like otherwise.
Another fun and beautiful photographic exposé is Russo's latest book: "Norway to Spitzberg".  I have previously reviewed this book and commented:
"Albert Russo's photographic essay illustrating a cruise ship voyage with the Costa Atlantica («La città ideale») along the coast of Norway, from the city of Bergen (birthplace of composer Edvard Grieg) to the top of the globe (Spitzberg) is fascinating not only because of his realizing the full circle of «post-post-realism» in modern photography, but also because Mr. Russo transforms the tourist «photo-stalker» experience into the creation of a professional visual compendium – combining dramatic and magnificent seascapes, fjordscapes and landscapes with the intimacy of still lifes, the humanity of people at work and play and in their quiet, alone moments, as well as the extremities of fauna, and indigenous peoples and their cultural expressions and living environments.  It is not difficult to understand that Mr. Russo is also an accomplished poet and a master of prose-writing. The stories he tells in this photographic essay are not a mere show of proficiency as regards each individual work of art, but rather a dance of images as vivid as an operatic performance – full of passion, drama, silences, humour and music.  Mr. Russo has employed a Canon digital Ixus 55 - 5.0 megapixels camera, with 3x optical zoom. His «eye» for discerning, and his talent for capturing the «photographic moment», the mastery of light and clarity vs. slight distortion etc. is a testament to his delicious sense of artistry as well as his empathy for the experience of being human."
Out of curiosity, I took contact with Albert Russo to ask him to comment on his love for photography.  Here is his comment:
"In response to your question: I've always liked photography, from my adolescent years in Africa, actually I loved filming too and my 8mm or super 8mm films looked more like stills than films, people would complain telling me, oh god, five minutes on the same object, flower, trees, landscape, whatever, enough already!  Ever since my African days I've been taking photos with all kinds of cameras, from the standard Kodak box, to the famous German Minox, to the Fujica ST-605 (wonderful camera that accompanied me everywhere) - often using the Rexastar lens for close-ups (1:3.5 - f- 135mm), alternately with the smaller but very friendly Minolta 70W Riva zoom, and now with the Canon digital Ixus 55. I have probably forgotten a few other cameras I had.  Oh I used to take many colour slides in Africa (which I still have tucked somewhere and should think of printing the best).  Poetry and photography?  They are always closely related. A good picture tells a thousand things to the beholder if he/she pays attention to it, and the 'right' word suggests a thousand other things, that is why I never like to simply write captions under my photos. Actually now I do not wish to write anything at all, the photo must speak to you on its own."
In conclusion, I would recommend that art photography and poetry enthusiasts take note of this talented artist.  As one who has reviewed his collected poetry and read many of his novels, short stories and essays, I can attest that his literary talent complements his photographic expression.  Albert Russo is artistically self-integrated in all of his creative disciplines.
Copyright 2007, Adam Donaldson Powell.
Excerpted from Adam Donaldson Powell's unconventional biography of Albert Russo 
UNDER THE SHIRTTAILS OF ALBERT RUSSO, published by l'Aleph, Sweden
"The African Quatuor", which includes "Adopted by an American Homosexual in the Belgian Congo" (formerly "Mixed Blood"), "Leodine of the Belgian Congo", "Eur-African Exiles", and "Eclipse over Lake Tanganyika", was published in English by l'Aleph (Sweden) - both as e-books and as separate paperbacks - in 2014. Each of these four novels deals with the three African countries under Belgian rule, and during the post-colonial period: the present DRC (Congo Kinshasa / Zaire), Rwanda and Burundi. "Eur-African Exiles" also deals with Rhodesia / Zimbabwe and South Africa, during and after apartheid. All of these individual novels had been previously published by Domhan Books (USA), and then by Imago Press (USA). The French versions of these novels initially appeared in France as individual books: "Sang Mêlé", "Eclipse sur le Lac Tanganyika", "L'Ancêtre Noire" (later re-published with the title "Léodine L'Africaine"), and "Exils Africains".
Albert Russo is a multilingual author, writing his original works and literary adaptations in English, French and Italian. It should be noted that while he started writing poetry, stories and essays in English (while studying Business Administration at New York University in 1963) in North America, the United Kingdom and other continents, his first published books were in French. 
A popular adage in creative writing is: "Write what you know about". Without opening up a hornet's nest regarding this and other so-called "cardinal rules of writing", it is likely most obvious to readers of Albert Russo's novels based in Africa that he knows his subject, does massive research and also possesses  tremendous ingenuity in elaborating and embellishing factual incidences into glorious literary expositions - which are both captivating, entertaining and informative. This talent cannot be easily taught in creative writing classes or at universities. It requires an active fantasy as well as the ability to fill in the blanks in stories from the news and personal life history, as well as to create a painterly background with details of the environment, history, politics, flora, fauna, foods, sounds, smells and much more. Albert Russo's novels - especially the ones based on events in Africa - are rich in such descriptive imagery, and they provide every bit of visual and sensorial entertainment as a film or series of photographs. 
Albert Russo's first creative expression form was - in fact - photography, and he has taken photographs since he was a young lad. He received his first camera (a Kodak box camera) in 1955, and has published over 55 art photography books with exposés from his travels to exotic places all over the world. Among the awards received for photography books are: Indie Excellence Awards, The Gallery Photografica Award (Silver medal), and the London Book Festival Awards. In addition, his photos have been exhibited at the Museum of Photography (Lausanne, Switzerland), in the Musée du Louvre, at the Espace Cardin, both in Paris, at Times Square (New York City), whilst his two photography books on Paris and New York have been lauded by Michael Bloomberg (previous Mayor of New York City). 
However, the greatest inspiration and tool for Albert Russo's writing was and is his own uncanny ability to constantly co-interact both visually and conceptually with his surroundings, all the while linking fact and fiction inside his mind, and archiving this rich mélange of imagery together with his own experiences of mundane conversations and events suddenly brought to life - until the intensity of it all bubbles and brims over to a literary volcanic eruption which gives birth to both a sense of overall completion as well as inciting in the reader a desire to read, smell, see and hear ever more. In short, Albert Russo is a master of story-telling, armed with a poet's tongue and the eyes of a photographer.
But how does Africa fit into his life and literature? Albert Russo's life story is as exciting as his novels. He was born in Kamina, province of Katanga (Belgian Congo) in 1943, to an Italian Sephardic father (from Rhodes) and a British mother (who had grown up in Rhodesia).  He and his family resided in Congo, Ruanda-Urundi and Rhodesia for seventeen years, during which time Albert also traveled often to South Africa. He graduated from high school in Bujumbura, Burundi (Athénée Royal Interracial) on the northeastern shore of Lake Tanganyika. By then he was already multilingual: speaking French, English, Dutch and German (and vernacular Swahili). His many years residing and traveling on the African continent provided Russo with much more than mere local stories to tell. His own family background and social position in a colonialized Africa slowly moving towards independence and coupled with his own thirst and hunger to discover and experience "the soul of Africa" has given way to a plethora of perspectives of historical and literary value, which might otherwise have been lost in the axis of time and change. Albert Russo IS African. Albert Russo IS of "mixed blood", because blood does not only run in arteries and veins but in the social, cultural and creative DNA as well. 
Let us take a closer look at "Mixed Blood" ("Sang Mêlé") and the influences and events in Albert Russo's life which created this fantastic story that has been published and re-published many times by various publishing houses on two continents.
I first read "Mixed Blood" ("Adopted by an American Homosexual in the Belgian Congo") several years ago. Now, upon re-reading the work I am struck by the notion that the book is actually about identity. The shock of the titled themes "mixed blood" and "adoption by an American homosexual" - no less in the Belgian Congo - in contemporary Western first-world society now seems lessened by social change and human progress. Yes, while we have not come as far as many might wish, we have certainly come quite a way since post-WW2 and the year in which this novel was first published in France (1990). Of course, all literature and art must be seen at least partially in the contexts of the social and political contexts of its era. In that regard, the book was certainly rather shocking. But what about the more universal concepts and ideas that transcend epochs? The book does indeed deliver in a larger time frame as well - through the pervading and underlying universal theme of search for identity in a great sea of currents and elements (natural and not) which lead us, hinder us, and ultimately contribute to our self-definition and the ways in which we shape our lives … sometimes by way of our choices, and at other times in response to survival (eg. physically, mentally, socially and spiritually). We are all essentially co-creators of our states of mind and being, and always on the lookout for guidance, agreement and support for our ideas and choices. That guidance can come from various sources: religion, laws and regulations imposed by authorities, the media, families, friends and other social groups and institutions … and authors and artists. The latter can oftentimes see themselves as on the front lines in the war of minds. Sometimes as teachers and propagandists, but more often taking on the burden of encouraging and provoking the public to use their minds in expanded ways, to continue developing, and to become more accepting of one's own need to live and think more creatively and with fewer restrictions and personal boundaries. This vital and sometimes "dangerous" role as a provocateur requires courage and the willingness to confront one's own perceived limitations. This because in order to inspire introspection in others an author/artist must identify with humanity in ways that are believable and convincing. This is one of Albert Russo's greatest strengths as an author. In all of his books he creates a mysterious mélange of personality confluences and interconnections, stories within stories, voices becoming other voices, and historical references that retain their relevances across decades and centuries. 
In "Mixed Blood" there is an abrupt change of  "first-person dialoguers", eg. from Léo the son, and then halfway through the book to his father as he reads and reacts to a letter from Léo. At first reading, this literary mechanism might seem to be a simplified way of showing generational voices. In fact, I suspect that there was much more going on in the mind of Albert Russo when he penned this work. It is logical that by using the first-person the author is perhaps freer to become Léopold — more directly and more freely — while accessing his own experiences from life. Russo has a child's genius when it comes to being inquisitive and at the same time omniscient, often noticing and dwelling upon small quirks that adults try to ignore but which children (rightly so) find quite significant, eg. the twitching of a person's Adams' apple. By writing as Léo in the first-person (just as he writes as Zapinette in several books in a later series) he is thus free to re-access these memories and fascinations that most of us dismiss and forget as we get older. 
Russo's employment of stories within stories (eg. Mama Malkia's folktale, which adds an important psychological layer to an otherwise mundane relationship between herself, Harry and Léo), and his juxtapositions of other less significant stories within the main story, all serve to give the book great depth and a wider net range in which to capture and maintain readers' interest. At times these well-written sub-plots function as short stories in their own right. 
And then there are many underlying sub-themes which are mentioned briefly but in contexts which make them larger than life and utterly spell-binding, such as when a cut diamond is turned slightly to capture life from a different angle. These include, among others, American fascination with a perhaps glorified vision of Africa, Africans' identification and sympathies with American Blacks not feeling free, homosexuality/pederasty, Blacks vs. Arabs, Blacks' sympathy for Jews, African local culture vs. Christian institutions and morality, witch medicine vs. European medicine etc.
I have asked Mr. Russo to write me regarding many of these thoughts and questions, and also to explain the appeal of this book then, and now. This is his rather candid response:
I finished writing MIXED BLOOD, my first major African novel, in the Summer of 1986, and sent it immediately to James Baldwin, whom I met soon thereafter, for he had liked it very much.  While in Paris we had dinner together and I accompanied him to a private showing of the film 'Lady sings the Blues' (Billie Holiday), of which, he had already penned a scathing review in America.  He then kindly invited me to St. Paul de Vence in southern France, but unfortunately he died at the end if 1987, and it was too late. My second stay in the USA after Stonewall (not while I was studying there during Kennedy's presidency) has probably influenced me to tackle the subject of homosexuality, which I had never done before.    
I wrote the novel first in English and had won the Best Fiction Award by Volcano Review in California for the whole first part.  Then I showed the English novel to Robert Cornevin, the president of ADELF (association of French-speaking writers) who told me that I absolutely had to translate it into French, so I rewrote and adapted it almost verbatim - you do know that I NEVER translate my books from English into French and vice-versa, I rewrite them, changing all the typical expressions of language A, as well as certain 'images', which I deem untranslatable. Professional translators are not allowed to do what I do.  In certain cases, as in 'I-sraeli Syndrome', the English text is much more erotic than the French one, so yes, in some cases, there are additions. I feel freer to express myself in English than in French. 'Ambiance oblige'.  When the first French edition came out it was both a critical and a commercial success - all is relative -, but that is the book with which my literary career was launched in the French-speaking world.
The Black-American struggle had a definite impact on my writing. Not only because I have lived in the United States for a total duration of 8 years, two decades apart, but because I was born and grew up in an African colony, where there was racial discrimination.  I had read quite a few white and African-American writers and was well aware of the history of racism in North America.  Yet, if I had to publish the same novel for the 4th or 5th time today, I wouldn't change a word, because I deem that my story is still valid today, maybe not contemporary in Scandinavia or in Holland, but definitely in France - and here, I don't even mention the countries where you get jailed or, worse, decapitated if you are openly homosexual -: even though marriage between partners of the same sex is allowed, there are still millions of people demonstrating every year against that law and against same-sex couples having children.  Homophobia hasn't disappeared, and especially not in the French provinces.  There are many more gay youths committing suicide than heterosexual teenagers.  And something I never heard proffered out loud in the Belgian Congo (yes some of the people were hypocritical all right, but they never dared express those insults publicly) such as Sales Pédés,"on te fera la peau", which so many young Muslims shout in the streets when they happen to see two men holding hands.  The irony of it all is that in Muslim countries homosexuality seems to be the norm (but you must never mention it).  I know, I have been to the Maghreb countries and to Turkey many times. It seems paradoxical, but in my novel, i.e., in the Belgian Congo, gay people were not menaced as they are today.  Of course, they were much more discreet too.  That may also be the reason.  
I often use the first person vs the third person in my novels in order to better identify with the protagonist and with the other main characters: I am that character and feel freer to delve into his or her anima. 
Since the very beginning of my 'career' I have liked to include foreign words and expressions.  Actually, I'm an African gifted with a number of languages, each language, being a planet in its own right.  Africans have a natural gift for languages. Not only do they speak their own dialect, but they also speak one of the continent's main languages like Swahili, plus the colonialist's lingua franca: English, French, Spanish, Portuguese … Example: in Burundi, they speak Kirundi, Swahili and French; and those who go to university add English as well into their curriculum.  This gift for languages was totally ignored during the colonial period!  In France I've often been told that I have no roots.  My answer: You are wrong. Compare me to that tropical aquatic plant whose roots develop out of the water (yes, indeed, upside down - ask a botanist and s/he will give you the latin name for this plant / tree).  In America that wasn't a problem. Only the French are Cartesian to the point of being intolerant.
Please note, dear readers, that from now on I shall use my own neologism 's/he' instead of 'he or she'.
These are the themes that contributed to the success of this book: homosexuality, racial and cultural differences, plus the colonial and post-colonial era.  I must insist on this: I went to Senegal (West Africa) about seven years ago and found the very same atmosphere, with the exception that the country was independent and that they had computers and mobile phones.  But in the countryside, I felt exactly the way I felt when I was a teenager in the Belgian Congo and in Rwanda-Urundi.  With the major difference that now we were on an equal footing. But all the other problems remained the same.  
I'd like to point out the fact that I am not, nor have I ever been a gay militant.  I'm just an author like many of my better peers, since I write all kinds of stories, stories which have nothing to do with gay themes.  My family read all my novels and they knew very well who I was, my mother, sisters, children and now grand-children.  They accept me with no questions asked, as well as my partner of 25 years, Bernard, whom they all like very much.  
I never liked labels, and that is because of French intolerance: to them I am not an African, since I am not Black.  The fact that I write in several languages, disturbs them and they - the big publishers - prefer to ignore me.  What is this Albert Russo, they ask, who's lived in Africa, then in America, then in Italy and who speaks French like a Frenchman?  He is 'nothing', has no roots. In other words, in their eyes I'm a bastard - in the sense that I am too 'mixed' ; they might add, 'too mixed-up'.
"Mixed Blood" has always been very well received in Africa/the Congo, and this hasn't changed.  Actually all my African books are being studied at the University of Lubumbashi (formerly Elisabethville) and probably in the other major Congolese, Rwandan and Burundian universities, both in the History and the Literature departments.  That makes me very proud. My English versions are also read in Ghana, Nigeria, where Chinua Achebe published some excerpts in his own magazine, and in South Africa, where Zulu Zapinette was also published, not long ago. 
I have been asked if I intended this story to be a novel.  No, I never plan anything. I started writing and this book became a novel.
Robert Cornevin, of whom I spoke earlier read the original English manuscript and he enthusiastically prompted me to write a French version, which then became a success. Don't ask me how or why it was first published as a book in French.  Publishers worldwide - and here I include the 'big' American and British publishers - are irrational, they can even be commercially wrong, but they will never admit it. A bon entendeur salut! 
I've also been asked how long it took me to write this novel.  I'm a slow writer: I need a whole year for a book of 180 to 250 pages. 
When I started writing "Mixed Blood" there was no Internet.  I did a lot of research, the old way. I have read maybe 100+ books on African History, mores, tribal life, oral and written literature, pre-colonial, colonial and post colonial periods.  I have read well-written and balanced books, as well as very badly-researched books, especially by Anglo-Saxon so-called renowned experts, who are terribly biased, even today, especially where Belgian rule in Africa is concerned.  They insist on the personal and often ruthless rule of Léopold II, who used foreign, British, French and Belgian mercenaries, but also Stanley, the Welsh-American explorer-reporter, who drew the map of what is today the RD Congo, and whom many contemporary Africans are thankful for, in spite of some of his cruel deeds.  After the 'international scandal' the British launched, Léopold II cast aside his 'private' property like a hot rod to the Belgian Parliament, which never wanted a colony in the first place.  The British, and consequently the Americans actually put a cross on the most important period, going from 1908 to 1960 - that is when that huge territory, the size of Western Europe, 80 times larger than the new 'mother country', became the Belgian Congo, and when the Belgians began to 'repair' some of the worst aspects inherited by a king they never liked, making of it a 'model colony', with all its bad sides: segregation, white superiority complex, and the positive ones: Africans had the best health service of any colony and free primary schooling was compulsory.  They also built the best transportation network: more than 6500 kms of railways, 125,000 kms of roads, a small portion of it being asphalted, the best aviation network of the continent, except for South Africa - all but destroyed nowadays.  
Belgium HAD to grant independence to a territory that was not ready for it - blame the major powers of yore: the US, the Soviet Union, China, France, Britain, and what was then called the Third World, including India, Egypt, the 'freed' North African nations, which forced a puzzled Belgium to subject its colony to the greatest bidders.  Actually they helped throw that wonderful giant and very advanced 'colony' to the dogs, scaring away the Belgian functionaries, until the whole magnificent infrastructure collapsed.  
NOTE: unlike the North Africans who continue to blame France for its colonial past, the Congolese, Rwandans and Burundians are usually on excellent terms with the Belgians.  The Congolese still call them their 'uncles'; an endearing word.  In Belgium nowadays, the tens of thousands of Black Africans live and work in harmony with the Belgians - My beloved mother had three African nurses, or better said, dames de compagnie, during the seven years of her illness, who became our dearest friends - which is NOT the case with many immigrants of Moroccan origin. Brussels has become the capital of Islamic terrorism of Europe. And yet, Belgium never colonized Morocco; France did. Explain that to me!  
After the success of my African books I was pigeonholed as an African storyteller, especially In France and in Belgium, but not in the English-speaking world.  The French publishers of my African novels refused to publish my "Zapinette series" or my short-stories in French.  I had to look for other small and middle-sized publishers for the latter.  The owner of Ginkgo, in Paris, for instance, tells me that "Zapinette" has nothing to do with Albert Russo!!! 
I write my own adaptations in French and English. It is mostly a work of transliteration and of re-writing.  I can assure you that it takes as much time as writing my original novel.
"MIXED BLOOD" was the original title of the novel, but, le marketing oblige, my new publisher suggested that I change the title, and I did, naming it "ADOPTED BY AN AMERICAN HOMOSEXUAL IN THE BELGIAN CONGO (AAHBC)"; and even though it has a 'tabloid' sounding title, I am quite satisfied with it.  I want to reach more readers and this is what is important.  Actually, the title "MIXED BLOOD", which is a good title, is too limited in scope, and furthermore, I have discovered in the meantime that a thriller written much earlier had the same title.  AAHBC belongs to me… and to me alone.
Unlike many American or British authors, I write short novels.  I don't like to drag on and on, like my Anglo-Saxon peers do, to the point of discouraging me from reading their 400+ page long novels when I reach page 150.  Yet, when I am interested, I can read up to 1000+ page books of history, sociology, psychology, science (made easy) …. books.  While I am and will always remain an Agnostic, I have about 20 Bibles of all denominations in 5 languages, as well as archaeological books related to the Bible. To me, the Bible, mainly the Torah, which covers 3/4 of the Christian Bible is the world's first extraordinary Encyclopaedia, with legends, exciting stories, short and long poems, psalms, half truths, and proven facts.  I read parts of it regularly … as I read Shakespeare.
I believe that large conventional Anglo-Saxon publishers think that my novels are too short for saleability.  That is why I have small publishers for my works in English: they stress quality over quantity.  But here again, Random House et al, could make bestsellers out of each one of my novels that form my AFRICAN QUATUOR.  Maybe one day a commercial CEO - aren't they now those who decide which novel will be published or not, instead of the literary editors? - will understand that they have missed out on something, or maybe not.  So no, it's not about the economy, Stupid, it's all about the lack of perception.  To conclude this subject, I am thankful for the Internet, which has lent my books a second and even a third life. 
In LÉODINE OF BELGIAN CONGO  Albert Russo soars to new literary heights,  combining poetic prose with dramatic staging and imaging so descriptive that it transports the reader not only to Central Africa some sixty years ago, but also into individual moments and hours broken down and expanded exponentially so as to command full introspective experience — and which are consequently adopted by the reader as one's own. In addition, Monsieur Russo is also an historian and a teacher — both supplying the reader with important and sundry information, much of which was never known to most readers (or forgotten), and which is put into contexts perhaps heretofore unimagined. Another rule of writing (or adage) is to "show, not tell". Well, Albert Russo manages to do both with great proficiency. We both see, hear, smell and learn, by whatever means the author deems necessary and useful — and Russo has a rather large and colorful palette that he works from. 
The story itself —yet another powerful study of an individual's search for identity and, again, beautifully expressed through the emphatic voice, questioning mind and open soul of an adolescent — is centered around Léodine, who is the daughter of Flemish Astrid and of the American G.I. Gregory McNeil  (whom she had met in France during WWII) , but who grows up in the Belgian Congo with her mother, after her father died in a plane crash.  Astrid eventually falls in love with one Piet Van den Berg. Léodine one day discovers that her family has a "dark secret" — that her natural father had a black great-grandmother, and that she is of  "mixed blood". The story further documents Léodine's return to the Congo as an adult, her dismay in seeing the results of the aftermath of the genocide in Rwanda (1994), and her subsequent adoption of a Mozambican boy whom she named after her first adolescent lover — Mario-Tende.
I see in this wonderful novel seedlings of the persona Zapinette — the protagonist and heroine — in Russo's later "Zapinette series". Chapters five and six of this book are excellent illustrations of Russo approaching the philosophical and ethical larger questions in life through the eyes of an inquiring adolescent, as well as his excellent research and poetic prose.
And I wonder, what is the root and cause of Albert Russo's fascination with "mixed blood"? The other questions regarding personal and group identity, politics, and cultural differences  are — in most cases — perhaps rather comprehensible. Albert Russo is not, himself, of mixed blood — or is he? Is "mixed blood" perhaps an expression of his own mixed cultural heritage — or does the author have more to reveal to inquisitive readers who finally want to know his answer to this question?
I felt compelled to ask Monsieur Russo what is the source and raison d´être of his previous fascination with "mixed blood", and how this particular topic was received by readers, the media and publishers at the time. This is what he has responded:
I became convinced that I was of mixed blood during the years of my secondary schooling in Usumbura / Bujumbura, once I started attending the Athénée Royal Interracial - where I had white, black and Asian classmates (a rarity in the colonies, in fact it was exceptional; now I deem it a privilege Whites in the other colonies did not have), not while I was still a child.  My childhood left me with very bad memories, because of the nastiness and the jealousy of my father's Italian-Sephardic family towards my beloved mother - "the stranger, the foreigner" - who was much better educated than them, who spoke English - they called her 'la Inglesa'! in a derogatory tone -, a language they couldn't understand, and who, furthermore, played the piano beautifully - "who does she think she is, pummeling the piano notes like that, and giving us headaches with her Chopin, Beethoven and Black American music?"
In my own family, I already felt estranged: different languages, different backgrounds, conflicting cultures.  Later on I learned that not only my families were of different religions - Jewish, Christian, and Animist - but also of different races, since I also have cousins of mixed-blood (white / black) in the Congo and in Zimbabwe.
Going back to my novel MB, later known as AAHBC, my peers, as well as new students and new professors of Literature who may one day read that novel or the complete "AFRICAN QUATUOR", might ask themselves, whether the protagonist and the other main characters who appear in AAHBC are real, or come from my imagination.  They existed all right.  Harry Wilson (not his real name) was an acquaintance of my parents, but it is only as a young adult that I understood who he really was: a homosexual.  And yes, he did adopt a mulatto boy (again, Léopold was not his real name).  As for Mama Malkia (not her real name here too), she was one of our cook's two wives, the older one.  Bigamy was not permitted in the Belgian Congo, but my father convinced the colonial administrator to close an eye, which he did.  This is also an example of the flexibility of the Belgians in the Congo. Whereas mixed marriages were looked down upon, they existed, and at primary school I remember having had several mulatto classmates.  The latter studied and played with us quasi-normally.  Our teachers condemned any blatant discrimination and punished the pupils who were caught insulting them. Mixed classes started existing in the mid-nineteen-fifties, at secondary school and in the brand new and beautiful universities, like Lovanium in Léopoldville and the University of Elisabethville.  This is to show and to prove the benevolence of the Belgians, compared to all the other colonialists, whether British, French, Portuguese or Spanish. Which again, does not mean that the Africans were on an equal footing.  Until the mid-fifties, they were considered 'eternal children'.  I should also stress the fact that during the seventeen years I spent in Belgian-ruled Africa, I have never seen a black man either being hit or thrashed.  Those who committed petty crimes were sent to prison for a few weeks.  And yes, they were scared of the 'kaboke' (police), who could also be an African.  Here, it is also true that some white people took advantage of that fear and threatened them to call a kaboke.  But never, ever was there anything similar to the KKK in America, lynchings or killings.  There had been before my birth a few uprisings in smaller towns, and there, the Force Publique did kill dozens of Africans to quash the so-called rebellions.  I personally never witnessed such events.  I repeat, it is true that the big Belgian and foreign companies earned millions of dollars doing business in the Congo, but it is also true that the majority of white functionaries were not rich people and that the Africans largely benefitted from a health service, second to none (much better than even in rich South Africa, for instance) and free primary schooling for Africans, both in their native tongue and in French.  Actually these Africans, under the Belgians, were the best educated of all colonies.  The big mistake of the Belgian colonial administration, which unlike the others had no colonial experience and proved to be quite naive, was that it started educating an African elite much later than, let's say the British or the French.  This being said, the elites were a tiny minority in the British and French colonies, while the masses of Africans were very neglected, compared to what happened in the Congo and in Ruanda-Urundi.  With all theses explanations, I still am a fervent anti-colonialist, but I cannot let people write untruths.  The rest of the world, lead by the Anglo-Saxons, prefer, even today, to erase the history of the Belgian Congo, and still only refer to Léopold II and to Conrad's masterpiece 'The heart of darkness', which has nothing to do with the Belgian Congo, since it was written during Léopold II's era.  I despise liars and so-called "historians" who claim to be experts on colonialism; many of them are ideologues who distort historical facts.  Nothing is ever black and white  - isn't that ironically appropriate here?  
The other big irony is that in 1958 - only two years before Congo-Léopoldville's Independence, an International Commission came to the Congo and lauded the Belgians for their 'magnificent' work vis-à-vis the African population.  Then, when the whole infrastructure collapsed, weeks after the Congo's Independence in 1960, and tribal wars erupted such as I had never before witnessed, the Belgians began to be called the cruelest colonialists that ever existed!!!  
Last, but not least, I wish to conclude on a very personal note.  My own father, during his 35-odd years of living in the Congo and Ruanda-Urundi used to spend half of every week in the bush, visiting Africans and Belgians in villages. Often his car broke down and often he was the guest of African chiefs, sleeping in huts and sharing their meals.  He could have been killed and no one would have found out how or where.  This is to tell you how safe the Congo was, not because of fear, but because they felt protected. When I left Africa at the age of seventeen, I can only remember smiles and good humor.  Yes, I can say it: the great majority of Africans were happy with the Belgians, who had eradicated many of the deadly diseases, which have now returned.  And yes, todays' Congolese live in poverty and sickness such as I had never before seen.  In the last ten years, six million+ Congolese have died, either because of tribal feuds, conflicts between rebels and the government forces, or because of illness.  The Congo today is also known for having the highest percentage of rapes in the world and the UN - that useless 'grand machin', as Charles De Gaulle justly called it - has sent the largest contingent of any country, spending billions of dollars ….and letting people be killed, often taking advantage themselves of the soil's bounty, and raping women.  You will never hear or read such facts, because speaking of them is very politically incorrect. Damn political correctness, a terrible and often noxious idea which America spread around the world.  Actually, I believe the USA, which has saved Europe and Asia from the Nazis and the Japanese fascists, has committed crimes much bigger than what they say about the Belgians.  One crime doesn't excuse another crime.  
I know that what I just wrote will astound and even infuriate university professors around the world, yes even in Africa.  I say "be damned" to whomever treats me as a racist or a colonialist.  My Congolese, Rwandan and Burundian brethren are there to defend me, from Lubumbashi to Likasi and Kinshasa - and by the way, they created a Wikipedia page about me in Lingala, one of the five major African languages of that huge country, the lingua franca being French -, from Bujumbura to Muramvya (both in Burundi) and Kigali, the capital of Rwanda. Some Hutu and Tutsi still blame the former Belgian administration for their 'divide and rule' policy - the Hutu in Rwanda and the Tutsi in Burundi.  This is probably true, but it never was the Belgians who incited the Hutu to kill almost a million Tutsi and moderate Hutu in 1994!  Actually, during their administration they never allowed the Hutu and the Tutsi to murder each other. 
Recently I was approached by the BBC for an interview about the Belgian Congo, but they didn't like what they heard since they retained their clichés and untruths, and I told them to go to hell.  Here we are talking of the so-called prestigious and world respected BBC, which — by the way —did air one of my African stories a few years ago.  
Speaking of clichés, a few years ago, in Oslo, I met a nice Asian reviewer, we sympathized and she gladly accepted to write about LBC.  Her comments were very positive, except when she concluded the review, saying that, being a white person, I could never put myself in the shoes of Africans.  How wrong she was - with her cliché -, of course she didn't know anything about my real background.  So I can excuse her.  
A last anecdote - the anti-cliché -: At the beginning of the new millennium, a friend of mine living in London, offered MB / AAHBC to the Nigerian Ambassador in Great Britain.  "Funny that I have never heard about that Congolese writer, Albert Russo — he is  probably himself of mixed blood, he knows his subject almost like a historian.  Thank you so much."  My friend added with a smile, "yes he is Congolese, but rather of the pale type." "An albino?"  "No  … white, with blue eyes."
Albert Russo is indeed a very prolific writer. I have asked him to respond to several questions regarding work routines, publishing experiences with self-publishing and small independent publishers, self-marketing, and his approach(es) to novel-writing. Both wanna-be writers and published authors are often interested in knowing various "tricks-of-the-trade" that established authors employ, as well as the problems they face. Here are some of the questions I have posed, and Russo's responses to them:
- How many hours do you work each writing day? Do you make work routines? Do you ever get up in the middle of the night to write when ideas occur to you? Do you note ideas in a notebook to use later on, that you carry around or have in your home?
As I said before, I'm a slow writer, but I have a strict discipline and I usually write five days a week, five to seven hours a day, whether I pen one page or more.  Right now, having moved to a new country, I can only write a page or two every ten days, which is terribly frustrating, since writing is also a great therapy.  I have a file at home with notes and ideas, but I never jot down anything when I am outside of my apartment.  What I sometimes do, when I have to wait for a doctor, is write longhand a short poem, but that's all.  Unlike some other writers, I can't create in cafés, libraries or other public places, because people distract me.
- Is much of your descriptive writing (e.g. details about landscape, flora, fauna, foods, smells, politics etc.) from memory, or from extensive research? 
Having grown up in Africa, I have always been moved by the beauty of nature: landscapes, sunsets, fauna and flowers.  I remember all these, the instant I think of Africa, the smells, the colors of the trees, the flamboyants, the jacarandas in full bloom.  When I tackle politics, I do some research, to be sure I am not writing falsehoods, even if I have a good memory of what happened in Africa.  
- Do you work on several writing assignments/projects at the same time (eg. other short stories, poetry, essays), and if so, does your novel-writing inspire these other works?
I can only concentrate on a single project at a time, whether it is a novel or a short story, or even an essay.  The only exception is poetry: I take a break and have to write a few verses, it is sort of an existential need.  When I spend too long a time away from poetry, I start feeling uneasy.
- Was it in your original plan to publish the four novels as the African Quatuor, or was your decision to group them together one that came after all four had been written?
In reference to my AFRICAN QUATUOR, the decision to reunite my four novels on Africa, it was a joint decision of my publisher l'Aleph and I.
- Have any of the characters or events in your novels been recognized by the real-life persons they are based upon? If so, what have been their responses?
My beloved mother, my sisters, especially, recognized everybody in my books, even though I had changed the names. The extended members of my family, i.e.,aunts, uncles, cousins, etc. never commented on my writing.  It is well known that very close people are sometimes afraid of being depicted in a book.  Only one uncle and one cousin, who still live in southern Africa, have read and liked my novels.  The rest - about 20 people - kept mum.
- Do you have editors who assist you with proofreading in English and French? Are those persons employees of your publishing companies? Does bi-lingual writing entail much personal responsibility for editing and proofreading in other languages?
When I write in French, editors always proofread my manuscripts and they submit their comments to me for approval.  In English it was the same with my small and very literary publisher, Imago Press.  Otherwise, I am in charge, which is quite a responsibility and a burden.  But I prefer it that way, since no one can touch or change what I have written, except for a few lines which a publisher asks me to take out, because I am getting too 'politically incorrect'.  Like those 'big' American publishers who demand that you rewrite a book or delete whole paragraphs, or worse chapters, and all of this without any guarantee that, after your excruciating efforts, they will actually accept your manuscript.  I deem those editors to be unethical and their decision-makers to be crooks.  I have had a horrible experience like that with a major French House, Flammarion.  I wrote an essay about that experience in English and won an award for best journalism in California.
- What are your thoughts and experiences about differences between writing literature to be published on the internet vs. in books? Do your styles differ when publishing for persons who read on-the-run or online in opposition to reading a novel that was originally written in a paper format?
I don't like to write for the Internet, except when I submit poetry and short stories for contests.
When a publisher wishes to publish a whole novel of mine online, I accept it, provided that I get a proper contract.  I don't change a word, since I always hope that the ebook will come out in print in the near future.
- You have both self-published and used many small independent presses for publication. Tell the readers a bit about your experiences with both - how much work do you put into editing your own books, and self-marketing? How do you market your books today (book fairs, tv, radio, internet, Facebook, websites etc.)?
I have had small, average-sized and big publishers, mainly in France.  I leave the marketing to the latter two, who, by the way, regularly organize book fairs in Paris, in the provinces and in Belgium, in which I take part.  In English I try to help my small publishers, by suggesting ideas.  I personally am not good at marketing my own books, even when I self-publish.  In this case I sometimes buy marketing services, provided they are within my means.  I don't know how to use social networks, in spite of the fact that I have Facebook, LinkedIn and Twitter.  And I don't like to spend too much time on them, inasmuch as I write in two languages and I correct all my Italian books myself, after the publisher has edited them.  As I said before, at this moment I don't even have the time to write regularly for myself.
- Many of your novels could easily be made into theater plays or films. Do you consciously approach writing novels in a cinematic fashion? Have any of your novels been made into plays or films? Which novels would you like to see onstage or at a cinema? And why these particular ones?
Quite a few reviewers wrote that some of my novels were good material for the movie industry.  My main French publisher has tried to get MB / AAHBC on screen for years, but nothing has resulted from his efforts in that direction.  I know that a few novels of mine would make interesting films: actually my whole AFRICAN QUATUOR, LE CAP DES ILLUSIONS, as well as THE GOSH ZAPINETTE! series; the latter one, more for television than for the big screen.  But, with the years, I have realized that, unless you have written a bestseller, and even then, there is no connection whatsoever between the Book industry and Cinema.  So I have stopped bothering with the idea.
I do have two of my African novels 'filmed' like documentaries, AAHBC and EAE, respectively 90 and over 100 minutes.  But those film adaptations do not interest Hollywood.
One of many examples of Russo's "cinematic writing style" describes a pedophilic experience — as if it were a dream. To describe such an experience in this way is not unnatural, as it is quite human to attempt to disregard the horrible validity of such a personal transgression and intrusion through denial that it really happened. Here Albert Russo's protagonist (Léodine) shows incredible strength in analyzing the events, ultimately accepting that they - in fact - did occur, and for a time dismissing it, seemingly without further ado. But I can only wonder if Léodine became a "feminist" after that experience — perhaps much as her alter-ego "Zapinette". Is it possible that Zapinette is a literary split personality? The "dark secret" that Léodine carries as a burden — that of being of "mixed blood" — in my opinion pales against the burden of this particular secret. 
Of course, I have many questions for the author. Not only regarding the source of this writing in his own life (or in that of another person that he has known), but also concerning why and how Léodine was able to survive this traumatic experience. Did her own mother's sexual "looseness" — often accompanied by her abuse of alcohol — enable Leódine to identify with and process this intrusion as "natural" for her — a young woman who is already branded as an undesirable person because she is of "mixed blood"? And even more intimately, knowing that Albert Russo has previously been married and has two grown children whom he loves, how has his "feminism" been affected by and affected his own subsequent homosexual life? These are questions that are perhaps "politically incorrect" and/or "personally improper" to ask of anyone — let alone an author of fiction. But I am going to ask the questions. 
Here is the excerpt to which I am referring:
Arnaud poured the last drops of the rosé wine into my glass and exclaimed: "Down it in one gulp! This will be the year!" 
I don't know why but his gesture gave me a fit of the giggles, and soon the two men joined me in a guffaw. I couldn't put one word after the other, so shaken I was, the situation getting even more difficult when I began to hiccup: "... what are you ... talking about ... I'm ... I'm much too ... young .... to get mmm ... to get married." I couldn't even recognize the sound of my own voice, for it reverberated like that of a ventriloquist's puppet, breaking in the middle of a sentence as if when a soprano, well into her aria, gets interrupted by a sudden attack of asthma, her vocal cords then rasping horrifically.  
I conjured up the ridiculous character created by Hergé, the famous Belgian author of Tintin's adventures, Bianca Castafiore, the stout and rambunctious opera singer who was always prone to attract thieves because of her jewels. This last image made me hysterical. From that moment on, events began to jostle in my head and I can only surmise what followed. I can still see these pictures torn to bits like confetti whirling before my eyes. And in the midst of it all, Rupert carries me to my room, helping me undress, so that I can get into my nightie. Then everything gets blurred. I must have been sound asleep when - was it past midnight, or in the wee hours of the morning? -, a manly face, clean shaven and smelling of menthol approaches me. I open my eyes, at least I think I did, and feel his sweet-scented breath on my cheek. The man's features strangely resemble those of Rupert's friend, and he is alone with me in my room. He whispers things that seem to have slipped out of a poetry book, they are so smooth and gentle: "I love your velvety skin .... your hair is pure silk ... I can but kneel at your feet as I kneel before the Virgin Mary ... you're so pure ... my rosebud .... my ..." These words have the lightness and the quality of Brussels lace. 
They envelop me like a light breeze and I welcome it wholeheartedly. 
Did I actually feel his finger glide over my breasts, then slip downward, further down, drawing circles around my navel? It followed its course, further down still, oh my God! Then, not one but several fingers clasped the upper band of my pantie, and I began to remonstrate. What he was doing to me wasn't right. But his murmurs resumed and this time had the levity of rose petals - it felt as if they whirled above me before they gently landed over my eyelids, like a caress which I could not decently repel. I believe his lips brushed mine, the same way a bee gathers pollen from a hibiscus flower. These same lips then pressed themselves tightly between my thighs, and there I felt a warm and pleasant moistness. Did I wet my nightie? I suddenly gasped, flushing with shame. I dared not open my eyes, lest I shock - the stranger as well as myself. I began to whimper and turned my head from left to right, then from right to left, repeating this gesture obsessively, like an automaton, whose batteries are at the end of their tether, aware that its movements would slow down and gradually cease. And the moment froze. "You mustn't, you mustn't," I kept repeating feebly. "You're ..." I then felt as if someone zipped my lips shut. I was now praying for the man to stop what he was doing, in spite of his being so gentle and so solicitous, but my plea remained unheeded, and worse, or should I say heck, my thoughts began to fly away, far away from the scene, as if what was happening to my body no longer concerned me, or that I had just become a simple spectator. It must have resembled one of those out-of-the body experiences where your mind appears totally split from your flesh. And indeed, I was witnessing the battle my instincts were waging against that foreign element, the adult male, then how they slowly, gradually yielded to the man's fondling, and how the sin of the flesh, so much decried by the nuns at catechism, was taking place under my gaze. Until now it had been so abstract, so often repeated, that it had almost meshed in my mind with the much more trivial and forgettable anecdotes of life. But suddenly, I sat petrified, for without warning, something began to rub against me, at first soft then becoming very hard and taking on a monstrous consistence. It went on rubbing against my thigh, savagely, probing dangerously upwards, seeking an opening, but my body resisted, fighting as if for dear life. I then heard my nightly visitor huff, calmly at first, then with an increasing agitation that bordered on rage. I felt his hot breath on my skin, it was burning. At last he lashed out, holding on to me with a furious energy, and he let out a long-drawn moan, as if someone had just dealt him a terrible blow. And all of a sudden he went slack. God, what was wrong with him? Was he ... dead? Then, to my horror, I became aware of a warm and sticky liquid spreading between my thighs. 
The next day, when Rupert knocked at my door – it was past seven and a half – I was still asleep, or rather slumbering, for I didn't want to get up, as if I needed that space of time to dilute into the marshes of my mind those, what were they, memories, rantings, which had given me such a shock? Then, mechanically, my hand went to rest over my loins and I felt so relieved to find that it wasn't smeared. That was enough to discard any residual doubt about what really happened, and I refused to even embrace the thought that I might have gone to the bathroom in the middle of the night in order to wash myself, using a glove. After I brushed my teeth - it took me about ten minutes before I could resume my senses - an incredible brightness filled my head. It was almost like a flood of light invading it, so dense and so powerful, that all the shadows and the particles still clinging to its corners got wiped out, leaving a huge and blinding void in its stead. What was happening to me that my senses were suddenly so exacerbated, so alive? I was seeing everything through a prism of such burning intensity that I asked myself if I hadn't suddenly been bewitched, for every object that surrounded me became highlighted with extraordinary acuteness: my toothpaste flashed with the fluorescence of an advertising neon, my hair seemed to be spangled with a myriad fireflies, I was hearing myself swallowing in stereophonic sound, I could even 'see' and 'hear' my skin breathe as if each pore were a miniaturized loudspeaker, and yet in spite or because of this state, I felt paradoxically numbed, cut from reality. It wasn't out of a sense of fear, or of joy, or even of resentment, no, it was more as if a stranger had slipped into my body, surreptitiously, during the chaotic minutes that preceded my awakening, for I had the impression that my personality had been split, the second me watching over my habitual self with a mixture of indifference and irony. And every so often the intruder would cast me a disdainful and condescending glance, like those self-righteous bourgeois who give you the once-over at a cocktail party, as if to say: "you don't belong here!" 
From this point on, the events unfolded at a surprising speed, like a film reel that the cameraman accelerates, botching down some of the things I had lived, as if my mind had wished to erase them. 
And here is Russo's response:
Indeed I am a staunch feminist and I have always liked the company of women.  I despise the gay people who speak of them with disrespect or, worse, with vulgarity, proffering sexual insults in order to demean them.  After all, where would they be if there weren't women?  It is they who are the sluts!
I am atypical in too many ways for my own good.  I was asexual until the age of 20, yes 20!  I didn't even know there was a difference between heterosexuals and homosexuals, let alone transvestites and transgenders.  I was so damn naive, when my teenaged classmates in Africa were already having sexual experiences and made salacious jokes.  I always pretended I never heard anything.  I was just not interested, as I was not interested in soccer, for example.  
In Africa people reach their sexual maturity earlier than in the West.  That's how ignorant I was.  When I was 13 or 14, I started masturbating, but only when I opened my big art book, looking ecstatically at beautiful statues such as the Venus of Milo or the David of Michelangelo.  They both gave me hard-ons.  What I couldn't do at that time was to associate these magnificent works of art, depicting men and women in their physical perfection, with youngsters in flesh and blood.  Some of my classmates were handsome or pretty, but I just couldn't approach them sexually.  There was like a chasm between the paintings and the sculptures I admired and the people I frequented.  I had good friends all right and one or two girls fell in love with me.  I would never respond and the remarks fell: "Albert is really hopeless, maybe he is homosexual, after all."  It didn't even hurt me, I didn't know what they meant.  Today this kind of naivety, at least, in developed societies, would not be believable.  But that is the truth.  My first sexual experience was a rape.  This happened during one of our forays in the beautiful volcanic region of Auvergne, in the Center of France, with my father, while we now lived in Italy.  I was alone, going back to our hotel through the fields, after having played a game of tennis, when a handsome woman of maybe 35 saw me.  "Oh! Aren't you the son of that Italian man, staying at the Hotel X?  That's where I also reside during the summer."  I acquiesced timidly since I did remember her face.  Before I knew what was going on, I found myself lying on the field, with my pants off.  "What are you doing?"  I asked her, stupidly.  "Oh come on, don't tell me you're a virgin!"  As I was resisting her, she rebuked me: "So, you prefer men!"  I was so frozen and dumbfounded, that I let her rape me!  And the following days, she sometimes managed to be alone with me in the hotel elevator and dragged me to her bedroom.  Did I enjoy it?  No, because she was a sex maniac and everybody seemed to be aware of it - I then found out that she was the wife of a famous Parisian surgeon -, especially since she would have extremely loud orgasms, and the walls were so thin, that all the residents who were either resting or doing something else could hear her / us, with the damn bed and parquet creaking like hell.  She later gave me a small golden heart.  My father knew what she had done to me and he seemed to be proud of his son, who had now become a real man!
I really did fall in love with my first wife, who was on the contrary, quiet and reserved.  We made love in a very natural way.  By that I mean, I was considerate and our love-making was exactly what the phrase means: I did it out of love mainly.  I didn't know anything about foreplay, erotic games, 'blue' books, etc.  In hindsight, I can say that I was not, and never have been a great lover.  Sex was very secondary to me, even though I now knew the facts of life.  Until very late in my adult life, and after having sired two wonderful children, I wasn't even interested in other sexual practices or, for that matter, in pornography.  Homosexuality was still like a cloud in my mind.  I was aware of its existence but it meant nothing to me, not out of fear - don't forget that I frequented Catholic schools in Africa, during 9 years, where I heard time and again that the sin of flesh could lead you to hell - I just never had any guilt feelings concerning sex.  Which is strange, since I knew so little about it.
My second wife was the opposite of the first one, but still I didn't change, she was the 'leader' in sexual matters and otherwise.  We divorced because of our increasing incompatibility, not for any other reasons, as some people perhaps might believe.  
I was already 38, for crying out loud, when I discovered that I liked men, especially after having met the person who is now my life partner.  Yes, I suddenly woke up and began to frequent sauna baths, out of spite and distress, during the period B. left me.  I became a voyeur, doing very little myself with other men, some of whom were gorgeous.  I was fervently approached many a time, but I always retracted.  Yes, I now enjoyed watching porn films in a cubicle and it excited me, with all these hunks sitting by my side and a few trying to stroke me - I let them do just that.  
Voilà: what a sexual nerd I was!  So what am I, a hetero, a homo, a bisexual?  I don't care what people call me.  Now I like sex, but am not active at all.  I prefer gentleness and tenderness to hard sex.  But why not associate the two, with love as the main condition?  
As you can see, I always felt apart from "the norm"!  And even before I knew about sexual differences, I never liked people who despised or laughed at those who were not like them.  Does that make me a militant?
In literature, I guess so, but not in the streets.  I don't demonstrate with hundreds of people, though I like Gay pride parades and have a certain admiration for drag queens and all the colorful characters who insist upon marking their differences conspicuously.  I believe they are very courageous and that we need such people to confront the petit-bourgeois' hypocritical and inane attitude, inasmuch as there have always been, among the Popes, the Monsignors and the priests, what they themselves call sexual perverts.  They are the sinners, not the other way round - didn't Jesus 'protect' Mary Magdalene the 'slut', against her enemies? - and it is because of the all the bunk, the nonsensical and harmful religious laws that this stupid sin became and still is the norm in every day life.  "Pope Francis, as kind as you are, you have no place in our societies, much less among the poor folk of Africa and elsewhere!  It is criminal to demand that they abstain from having sexual relations or not to wear condoms!  Who do you think helped to increase in huge numbers those affected by AIDS, if not Pope John XXII, and those before him, the majority, in the world, being women, not gay people?"  In Islamic countries, it is even much worse, but let's not go into that.   
Well, dear Readers, I cannot be absolutely certain, but I do feel that I can press a bit further now. And so I ask: "What experiences, Albert, can possibly be related to the pedophilia scene?" And here is his answer:  
When I was 7, in Elisabethville / Lubumbashi (DR Congo),  I was raped by a nephew of my father, who must have been about 13.  Of course I didn't understand what and why he asked me to undress and to submit
myself to his lust, lest I be 'denounced'.  He used me quite a few times and I obliged, scared of the promised punishment if I didn't, yet feeling intuitively that what he was doing to me was wrong.
Much later, during my second stay in NYC, I was already an adult of 32, and I had been married to my daughter's mother, and divorced, I still didn't have any homosexual inclinations, in spite of the fact that I frequented artists and gay people in Greenwich Village.
I received, via my Belgian publisher, Pierre Deméyère, a letter from a bishop who had read 'Eclats de Malachite' and who had lauded the book so fervently that he invited me to stay at the 'Collège' (equivalent to high-school, not to the American College) in Namur, Wallonia (southern Belgium), of which he was the Principal, when I returned to Europe during the summer vacation, (I flew across the Atlantic every year, to rejoin my family in Italy), for a couple of weeks, just before the Summer recess. My parents and I believed it was an honor that I ought to accept.
Of course, I was still so naive in matters of sexual differences and orientations (again I knew they existed, as I knew that hunters were hacking to death baby seals in Canada, and I did feel for people who were victims of homophobia and for all the other innocent people who acted differently to the norm in general, suffering from injustices of all kinds, in other words, I was always on their side).  Yes, at the ripe age of 32, for crying out loud, I was still incredibly ignorant, to the point where I didn't understand why people of the same sex would make advances to me.  I would refuse politely and with such equanimity, never getting mad, that these young men thought I might be, well, retarded.
I thus took the plane from Milan to Brussels, then a train to Namur, where the bishop was waiting for me at the station.  He was ever so kind and kept on saying what a sensitive writer I was.  Imagine how flattered I felt, coming from the Principal of Namur's best-known 'Collège'.  After accompanying me to his private suite - yes, he invited me to stay in the guest-room of the school's most privileged apartment -, he showed me around the premises, then we toured the town, which is one of Belgium's loveliest, set on a cliff, at the confluence of the rivers Meuse and Sambre. Namur is the capital city of Wallonia (the French-speaking part of the country) and is known for its Citadel, a medieval fortress with beautiful gardens. It also harbors the Felicien Rops Museum, with the work of the artist, who created scandal after scandal because of his erotic and pornographic paintings and drawings.  We did not visit the museum, of course. Now I have in my library a magnificent book with the complete art works of Felicien Rops.  He is still deemed, nowadays - we're in 2017! - a filthy pornographer by the petit-bourgeois and the fundamentalists of all stripes.
We dined with hundreds of students at the Collège's mess hall. The food was abundant and quite tasty, considering we were in a school.  He introduced me to them as a very promising writer who was studying in the 
United States.  As I said before, I had my own room and my own shower and WC, a real luxury.  I slept quite well that first night and woke up with a puzzled feeling.  The bishop was sitting on the edge of my bed, stroking my face.  He said nothing and went down through the lower opening of my pyjamas, then started caressing my penis.  I got a hard-on but was taken aback, bamboozled, for I never expected something like that, coming, what's more, from such a respected personality.
It was the first time in my life that I became conscious that a person of the same sex wanted to make love to me.  By the way, the rape committed by my cousin when I was seven got 'diluted' in the marshes of my 
memory - yes there was a total blank and it never traumatized me, for I had so many other real problems 
as a child.
I was so dumbstruck by the bishop's temerity that I let him touch me without reacting.  He even introduced a finger in my anus.  Then, without so much as a murmur, he presented me with his penis.  It was so big - I had never seen one of such a size, even in the marble statues I admired so much -, that I gagged.  He thrust it in front of my mouth.  I didn't know why but I instinctively clenched my teeth. Then he told me to lie on my stomach and said that he wouldn't hurt me.  There, I got the fright of my life, for his knob was as large as a ping pong ball and his testicles were twice as large as mine.  I did what he had asked, but the moment when his knob touched my buttocks, I shivered and had the courage to say: "No, please, nooo." And he stopped.  But every day thereafter, he came to bid me good night, stroking my penis and asking me to do the same to his, and I complied, yet I always felt strange and uneasy.  He had that kind of sweet talk that didn't allow you - at least me - to reject him brutally.
Again, that extraordinary experience did not traumatize me or made me want to explore the world of homosexuality.  Remember, I got married a second time to my son's mother.  This exploration came about after I
had divorced her, reaching now the age of … 43.
This great novel is not only about personal identity crises, but also about the dilemmas of fighting against patterns of thinking and behavior … about the human archetype in general. Much like the ancient Greeks, Russo writes about the inevitability of failure in resisting one's inherited psychology; and assuming the consequences of one's "lot in life" as if they are the result of social and psychological genetics and addictions. Even at the end of the story — in spite of a rigorous Christian re-education — the protagonist in this story returns to her psychological genetic roots, and attempts to once again make things "right" by adopting a child and re-naming it after her mulatto lover. There are perhaps many persons who see having a child and giving it a new and better life as a way to re-create their own pasts. But by naming/re-naming the child as a symbol of one's difficult past the resistance to letting go and moving forward is perhaps self-sabotaged. 
The writing is engaging and convincing, as is the story and its development … but I personally want Léodine to break free of her chains of slavery (which she has herself reinforced, albeit perhaps unwittingly). And yet, the believability of the story lies not only in the excellent writing, but also in the understanding that it could not have developed and ended in any other way. I am left sated … but on another level still dissatisfied; not with the story or the writing, but with the confirmation that the human race and personal history are doomed to repeat themselves. 
This is a novel with a classic foundation of ideas and development. It is — in retrospect — perhaps predictable, just as human development and behavior is perhaps "predictable" to palm-readers or psychics. By observing another's personality traits, attitudes and behavior patterns it is not difficult to gauge what will happen in the near or not-so-distant future. But the power and success of this novel lies — in fact — in its predictability, and in the literary skill employed to build up the story detail far beyond that of the classic Greek myths.
In "Princes and Gods" and "Eur-African Exiles" Albert Russo achieves new heights in his mastery of storytelling. "Princes and Gods" is fast-paced and, despite the relative simplicity of the writing style, he weaves an intricate mélange of stories within stories which — although they may at times seem to be asides or even distractions — ultimately all fall into place as the culmination of the storyline reveals itself in a beautiful and wild fashion that reflects and illustrates the uselessness of resisting the inevitable … be it change in interpersonal relationships or politics. In Russo's account of Burundi's movement towards independence, local affairs are never fully extricable from influences and pressures from the outside world, be they from neighboring Congo, or from politics, cultural pressures and interference from Europe, the US, Russia or China. The novel perhaps aptly describes the mirrored effects of inertia and change that reverberate and are mirrored on all levels, from love relationships and friendships to pressures for political and institutional changes. And yet, in this novel Russo again manages to acquaint the reader with the mentality of intrinsic African justice, and the necessity of achieving eventual balance when infringements and transgressions have taken place. 
In this work the author employs verse, ancient folklore, historical and political facts and interpretations, as well as richly detailed descriptions of people, places, and environments in order to transport the reader to Burundi at a particular interval in history in its transition from colonial to independent status. Russo thus "occupies" the readers' minds in a complicated chess-like game until the real purpose of the build-up rears its head in the final pages and results in a feu d'artifice unimagined in the beginning or middle sections of the book. And, true in spirit to Russo's Africa, in the end there is no European "true believer or nationalist" who wins — but rather a taming of passion to a sense of order more in synch with the soul of Africa.
In "About Princes and Gods", an essay by Jean-Luc Breton, published in Small Press Review and World Literature Today, Breton writes:
"Albert Russo raises then the ultimate question of the effect of colonialism, a political system in which humaneness (love, tolerance and delight in natural beauty) is eventually dissolved into the disheartening racial equality of greed, contempt and murder."
Albert Russo has made the following synopsis of "Eur-African Exiles" on the back cover of the book:
"This is the story of Sandro Romano-Livi, a young Italian Jew, leaving his Mediterranean island by boat, for the Belgian Congo (DR Congo), in 1926, as a stowaway. Of his adventurous life in Central Africa, during the first fifteen years, of David-Kanza (aka Daviko), the mulatto son he adopts, a secret he will disclose to his white Anglican fiancée, Gloria Simpson, born and raised in Rhodesia (Zimbabwe). Of their two daughters, Astrid and Dalia. Of his family's difficult situation and of their hopes. Of the loss of his parents and baby sister, who were sent to a Nazi concentration camp. Of his many travels in the African bush and of his ultimate success as a businessman. Of the family's departure to northern Italy, where they will settle, just before Central Africa's tragic events, whilst Sandro and Daviko will remain in Africa for a longer period. Of their love of the black continent and their incurable nostalgia. Of Astrid's later humanitarian activities in Botswana and Malawi."
In my own foreword to this book I wrote:
"This is a controversial book ... not especially in regards to the story itself, which is interesting, endearing and entertaining. It is controversial in its usage of a simple narrative writing style infused throughout with commentary that is highly socio-political in nature. The novel is both propaganda in literature and literary propaganda. Mr. Russo effectively lays out his tale in such a matter-of- fact fashion that the reader eagerly devours facts, fiction and political commentaries by the author without so much as blinking an eye. And Mr. Russo accomplishes this without railroading the reader into the absurd (as in the case of «Candide» by Francois-Marie Arouet Voltaire). 
Moreover, this is a « feel good » book. Even atrocities are given no more weight than personal pleasures and misfortunes. This because - from the narrator's perspective – the reality of the here and now in Africa is always the central point of focus. As a result, the reader is led through a cinematic voyage - sometimes by boat, sometimes by train, and sometimes by car - through a myriad of literary landscapes, rich images and experiences of Life, which feel at once timeless, ever-changing and as natural as the magic of Africa itself."
And I stand by those lofty words, even today. I have read all of these four African novels previously, but never before as now — one after the other, and with the larger perspective achieved after having read several of Monsieur Russo's publications from the past many years. I now feel inclined to go a few steps deeper — beyond praise of his literary storytelling skills, and into the politics behind his opinions that are voiced as asides, rhetorical discourses and short justifications in his novels and poetry. Albert Russo is, in my experience, a chameleon: he is easy to notice, but difficult to know with one glance. He is himself an African diamond with many facets, and it is often in the nuances (here literary) that one can finally get a good glimpse of who the author is as a creator — in his writing and art, and as a humanist and citizen of the planet Earth.
Here are my final questions to Albert Russo regarding his African novels:
- Things Fall Apart, the acclaimed novel published by Nigerian author Chinua Achebe in 1958, is considered by some to be the archetypal modern African novel (written in English). Has this, or other post-colonial African novels, influenced your own "African Quatuor"? And if so, then how? Do you think that there is a school or specific genre associated with modern African literature? Please explain.
Ever since I left Africa, I kept reading novels written by African-Americans and by 'new' African authors - new in the sense, that they were beginning to be discovered -, such as Wole Soyinka, Chinua Achebe, Buchi Emecheta, Ngugi wa Thiong'o, Tierno Monemembo, In Coli Jean Bofane who wrote a fabulous book set in Kinshasa, Charles Djungu Simba, who has become a close friend and who is teaching some of my own books at the University of Lubumbashi, Mudimbe, who I believe teaches in the USA, Sony Labou Tansi, etc, in both English and French, their 'chosen' literary language.  Not to mention Nadine Gordimer, JM Coetzee, Breyten Breytenbach, and the author of 'Cry the Beloved country', plus many more. Here I'd like to add Doris Lessing who wrote the magnificent collection 'African stories', about her life in Rhodesia / Zimbabwe. My beloved mother and she were in the same girl school in the capital Salisbury (now Harare). They used to greet each other but remained mere acquaintances. As you probably know, Lessing became a communist, then, abandoning that ideology, she wrote many of her later books as a staunch feminist. Then too I read avidly, in France, excellent North African writers; too many to be listed here, with some of my favorites being Yasmina Khadra (a man, in spite of his feminine name), Malika Mokedem, Kateb Yacine, Azouz Begag and, especially, Assia Djebar whom I all met and sympathized with, the latter became a close friend of mine - I met her in the USA when she got the prestigious Neustadt Prize for Literature (I was a member of that jury), often leading to the Nobel Prize, she was also one of the very few women sitting at the Académie Française - unfortunately, she died in 2015.  All these writers have had a cumulative influence on my own work.  They are too diverse to form a 'trend' or a 'school'.  That suits my own eclecticism.  
- You have alluded to some of your views regarding international interference, slave trade (both Arab and European colonial), as well as the oppression and benefits of European and American influence on African countries in many of your works. Could you comment briefly on your political perspectives concerning these issues, including the unfairness of post-colonial historical-political assessments of Belgian colonialism?
Referring back to slave-trading - which has existed since Antiquity - I insist on teaching about that savage and criminal practice, in its entirety, not only tackling the European-led crime, but that of the Muslim countries, still going on today, and of the African tribal chiefs too.  In other words - and it isn't the first time I am saying this -, history, which I deem to be a very 'volatile' and 'subjective', meaning not a scientific field, ought to be regarded as a work-in-perpetual-progress.  I respect only historians who can admit that they may be wrong, not the majority who claim that they hold the absolute truth!  I, who am not a historian, believe I know much more about Belgian-ruled Africa than most of the so-called specialists.  I have had my share of untruths and biases concerning the Belgian Congo, especially coming from the Anglo-Saxons, who I repeat reflect the biases and the old clichés of the British.  You will read all my thoughts on that subject in my African Quatuor.  And I too have made mistakes in my assessments, particularly when I was younger and when I believed in some of the nonsense printed under glossy covers.
- You have written in your African Quatuor that you (or at least the "speaker" in one of your novels) are skeptical towards persons who are racists towards general populations. You are both African and a "man of the world", well-traveled, you are multilingual, and you have a love of many cultures.  And yet, you have expressed skepticism towards Moslem/Arab cultural practices, religion and politics in previous and current books. You also write that you do (or the characters in your novels) not feel obliged to always be "politically-correct". 
a) First of all, is cultural skepticism necessarily racist, in your opinion?  Do you feel any restrictions upon utilizing your freedom of speech as an author when writing about intercultural/interracial differences and conflicts?  Have there been restrictions from publishers upon your freedom of speech regarding socially-sensitive issues?  If so, how do you deal with these — do you re-write, omit … or find another publisher? 
b) You are both African, European, a Jew of Sephardic heritage, and an avid literary advocate of human rights.  Today we can read in the news that Arab slave trade continues even now. You touch upon previous African scepticism towards Arabs (due to slave trade) in your books.  I know you as a lover of mankind (all races) and an Agnostic by faith.  Please explain how your own background/experiences, religious beliefs and human rights politics have influenced your skepticism towards aspects of Moslem/Arab culture, politics and practice. You write that you generally felt accepted as an African of Jewish heritage in Africa, but that Africans were sceptical to Arabs.  How has that influenced your writing of these novels (and subsequent ones), and your views today? 
c) In summary, do you — now, and as an Agnostic — feel that Christianity served colonial and post-colonial Congo, Burundi and Rwanda well, or was it perhaps a "mixed bag"?  What were the benefits and disadvantages of Christianity at the time you lived in Africa?  And how has that changed today, if at all?
As you already know, I am an Agnostic and can even claim to be a Humanist.  I very rarely had to change my texts concerning religious issues, except lately, when I mentioned Islamic terrorism.  I understand how dangerous it is for publishers to print some of my views, but why do they never discuss my scepticism regarding other religions, including Christianity and fundamentalists of other faiths, like the Ultra-Orthodox Jews?  We do live in a world where political-correctness has become more important than freedom of expression, all this, being the result of fear, FEAR.  Yes, I too am afraid of those I deem to be less than human, who are able to murder thousands of innocents of their own religion and the so-called 'Infidels'.  They are despicable, whether their skin is white, blue, black, green or even grey; they seem to favor RED, the color of blood.
Christians in the Belgian Congo, Rwanda and Burundi have brought both, good things: thousands of priests and nuns were sincerely devoted to the well-being and to the education of Africans, both in their native tongues and in French, and by doing so, these people sacrificed their own comfort. 
The very negative side, from the beginning, was to instill fear into the souls of children and adults alike, with the so-called original and deadly sins that lead to Hell, whilst defining their ancient spirits the work of the devil.  
But African ingenuity has all along been able to merge both their traditional Animism with modern Christianity.  Unfortunately, many of the contemporary so-called Televangelists, hailing from America, have added unwanted confusion to an already fragile syncretism.  Then too, the Popes have done a lot of harm to the present African population, by teaching them to be abstinent - which shows a total lack of sexual knowledge and African mores - and not to wear condoms, which is even more criminal, and which has led to an exponential increase of HIV-AIDS, making the Black Continent the major sufferer of that disease.  
Now, I see another dangerous evolution: the forced Islamization of Black African countries, as well as a multiplication of Christian sects.  There are now in the DR Congo dozens of such sects and their initiators behave as if they were demigods, leading their flocks into the wrong path, because these 'new' priests are just plain crooks and they demand that the parishioners give them most of the little money they possess.  All of this is quite disheartening, and whereas I respect people who have faith in their god, i.e., people who are righteous and help their neighbors, like those Christians and Muslims who hid Jews from the nazis and the fascists during WWII, I dislike church mice, which my heroine Zapinette would call 'church rats', or even worse, 'church roaches'.  There is the French equivalent, which is: "grenouilles de bénitier".   They are terrible hypocrites, who, like the French nazi collaborators of Vichy, are capable of doing tremendous harm.  
Remember how the 'Very Catholic' Isabel II who, with the Pope's blessing, allowed the 'Holy Inquisition' to take form and to murder non-Christians.  Today there is Jean-Marie Le Pen, in France, who claims to be a good Catholic, while hating both Jews and Muslims alike, forgetting, willingly, that Jesus was a Jew, a rabbi, and that the so-called Last Supper, was in fact the feasting of Pesah (which gave way to Easter).  
To conclude with this unsolvable subject, I'd like to add that Jesus was 'made' Christian by his followers decades after his death.  During his lifetime he wouldn't have understood if people called him Jesus Christ (a Greek invention).  Actually his original name was Yehoshua.  In the very beginning, there was Judaism, then it turned into a Judeo-Christian sect, and finally into what we now know as Christianity, in the name of which Jews have been tortured, murdered, chased from country to country, for over 2000 years.  In the name of whom exactly?  In the name of Jesus, who would abhor and condemn such behavior.  The same atrocities are now being committed by thousands of people in the name of Allah! 
And, unfortunately, dictators like Mugabe in Zimbabwe or Museveni in Uganda, both Christians, have adopted the regressive Victorian attitude of demonizing homosexuals and abortionists.
Go tell it to the mountain!
Copyright 2017, Adam Donaldson Powell.

Ecrivain bilingue - l'anglais et le français étant ses deux langues 'maternelles' - belge d'origine anglo-italienne, Albert Russo est né au Zaïre et a passé toute sa jeunesse sur le continent africain, entre l'ancien Congo Belge, le Rwanda-Burundi, le Zimbabwe et l'Afrique du Sud. Il fait ensuite ses études universitaires aux Etats-Unis puis à Heidelberg. Il parle couramment 5 langues: ses deux langues 'maternelles', l'italien, l'espagnol et l'allemand (et a quelques notions de portugais,  néerlandais et swahili). Il se fixe en Italie quelques années, retourne à New York où il adapte des films pour le département audio-visuel de l'Unicef, puis s'installe à Paris où il enseigne l'anglais et l'italien. Membre du PEN Club de Belgique et de France, de l'American PEN Center, de l'Authors' Guild of America et de l'Association des Ecrivains de Langue Française, il siège au jury du Prix Européen avec, jusqu'à récemment, Ionesco et Hélène Ahrweiler, entre autres personnalités.
Sa prose et sa poésie lui ont valu de nombreux prix littéraires, dont: le prix Colette 1974, New York Poetry Award, American Society of Writers Fiction Award, Volcano Review International Award for Long Fiction, Charles Katzman Journalism Award, Willie Lee Martin Award for Fiction, British Diversity Award for Fiction (1997) etc., et paraissent régulièrement dans des revues et anthologies littéraires (pour l'anglais) en Amérique du Nord, en Grande Bretagne, mais aussi en Australie, en Afrique et en Inde, ainsi que dans les pays francophones. Une de ses nouvelles a été radiophoniquement mise en scène par le Service Mondial de la BBC. 
Collaboration à de nombreuses publications, dont: World Press Review, International Herald Tribune, Short Story International, World Literature Today, The Edinburgh Review,Passport,The European Journal of Psychology, Books in Canada,Confrontation, Okike, Prize Africa, Indian Literature, Rafale, l'Autre Journal, la Revue Poétique de Cognac, Sapriphage, Encres Vagabondes, Le Bulletin de la Fondation Auschwitz, Fremde Verse, Tribuna (Roumanie) etc.
Il a été invité à participer, durant tout le mois de novembre 1993, avec dix autres écrivains, à L'Europe à Livre Ouvert, une initiative du Conseil Général de la Vienne présidée par René Monory et parrainée par le Ministère des Affaires Etrangères et la Communauté Européenne, entre autres organismes.
Directeur-adjoint de la revue Europe Plurilingue fondée par Nadine Dormoy (sous le haut-patronage de Simone Veil), il est aussi co-rédacteur de la revue anglophone Paris Transcontinental, dirigée par Claire Larrière (Sorbonne Nouvelle). Ses oeuvres ont été saluées par la presse internationale: Libération, l'Express, le Figaro Littéraire, l'Humanité, Ouest France, Le Soir (Bruxelles), La Libre Belgique, Jeune Afrique, le Nouvel Afrique-Asie, l'Hebdo (suisse), Le Quotidien d'Algérie, La République Internationale des Lettres, Confrontation, World literature Today, etc.
- 'Russo au Congo', par Michel Cressole, in Libération, Paris.
  "Sang mêlé, d'Albert Russo, est une exception à la règle, qui veut que tout roman plongé dans
   l'Afrique noire, par un écrivain blanc ou noir, en ressorte tropicalise, taraudé de personnages
   pittoresques, parasité de mots luxuriants et infesté de passages incantatoires. Ses phrases
   sont alignées au cordeau comme les rue d'Elisabethville."
- 'Sang mêlé', in La Cité, in La Nouvelle Gazette, Namur, in Le Figaro Littéraire, Paris :
"... Après plusieurs oeuvres écrites en langue anglaise, Albert Russo, qui a déjà reçu les prix
     Colette et Regain, marque avec cet ouvrage un retour réussi à la littérature française."
- Lettre de James Balwin à Albert Russo datée de 1987 (peu avant sa mort).
    "... J'aime votre écriture, car dans un style policé vous exprimez des sentiments violents,
         faisant éclater des vérités terrifiantes."
- 'Sang-mêlé culturel', propos recueillis par Cécile Ouhmani, in Encres Vagabondes
   (France); 'Albert Russo', propos recueillis par Victor Bouadjio, in Ecrire Aujourd'hui (France)
- Arlette Geerinckx s'entretient avec Albert Russo, in K 33, périodique des anciens étudiants du
   Zaïre.
Trois romans d'Albert Russo, situés en Afrique, en Israël et en Belgique, dont
Sang Mêlé et La Tour Shalom viennent d'être publiés en italien:
De même que leur auteur, les personnages d'Albert Russo sont d'une grande sensibilité, vulnérables à l'agressivité, aux calomnies, aux in justices, aux atteintes à leur dignité, à leur intégrité. Ces violences peuvent susciter leur indignation aussi bien que leur affliction, mais cette sensibilité leur fait également ressentir plus intensément autant les sensations que les sentiments, et cela Albert Russo sait admirablement le traduire.
Il en donne une preuve éclatante aussi bien dans Sang mélé publié chez Ginkgo, Paris, que dans l'Ancêtre noire ou dans la Tour Shalom, tous deux publiés chez Hors Commerce, Paris, diffusés par CDE / Sodis (groupe Gallimard)
Sang mélé décrit une Afrique profonde que l'auteur porte dans son coeur et dont le destin souvent tragique le peine douloureusement. Il s'attache avec affection à ces personnages humbles et admirables comme cette nourrice, servante noire au grand coeur qui semble pour lui symboliser ce que l'Afrique recèle de plus pérenne.
L'Ancêtre noire relate l'enfance et l'adolescence d'une jeune fille dans l'Afrique congolaise où l'auteur lui-même a passé son enfance. Elle vit, au lendemain de la seconde guerre mondiale dans cette Afrique encore coloniale où elle mène une vie heureuse et préservée jusqu'au jour où elle apprend qu'elle a une ancêtre noire. Cette révélation va la perturber mais lui faire prendre conscience de certaines réalitiés et la rapprocher de ses condisciples africains.
Albert Russo, sans préjugés, avec finesse et compréhension, avec subtilité et générosité analyse les conditions complexes et les mentalités des uns et des autres. La jeune fille va également connaître les premiers émois amoureux et les effarouchements des premiers contacts érotiques et il est étonnant qu'un homme ait une telle prescience pour nous faire découvrir ces émotions.
Une partie du livre est consacrée à un voyage dans la région des Grands Lacs et c'est l'occasion pour l'auteur de déployer toutes les richesses de sa palette et de nous enchanter par des descriptions somptueuses et d'une grande puissance évocatrice. On sent combien Albert Russo a aimé ce pays et s'en est enchanté.
La Tour Shalom est un récit à la fois plus intimiste et plus personnel, semble-t-il. Il décrit un couple en crise et un homme qui vit une douloureuse dépression lors d'un voyage en Israël où, d'une certaine manière, à l'instar de son auteur, il recherche une partie de ses racines cosmopolites. Ce roman qui pourrait paraître complaisant tant l'auteur nous fait pénétrer au profond de la tourmente intérieure de son personnage me semble au contraire fait de retenue et de non-dits qui suscitent une émotion d'autant plus forte qu'on pressennt ce que cache cette pudeur.
Albert Russo est de ces auteurs rares qui vont au fond des sentiments et des sensations à l'aide d'une écriture toujours maîtrisée et sereine, sans chercher de faux-fuyants ni se parer d'effets factices et trompeurs. Même s'il décrit parfois de petits incidents de la vie apparemment anodins, on s'aperçoit qu'ils ont toujours une résonance, il n'écrit pas pour ne rien dire, pour le simple divertissement, on sent qu'il y a dans toutes ses fictions un vécu incontestable et émouvant, il paie comptant sans nous éblouir d'une fausse monnaie littéraire de clinquant ou de sensationnel.   
  .                                            
Maurice Cury, auteur de dizaines de livres, dont le roman Sur la route de Salina a été adapté au théâtre, et au cinéma par Georges Lautner, avec Rita Hayworth, de pièces de théatre, radiophoniques et de scénarios.
- Nadine Dormoy sur Albert Russo, in Notre Librairie / CLEF (Ministère de la Coopération et du Développement et Ministère des Affaires Etrangères, Paris, été 1996).
"L'oeuvre d'Albert Russo, riche déjà de quatre romans et d'un recueil de poèmes, Dans la Nuit bleu-fauve/Futureyes, est fondamentalement éclectique, et par là même inclassable. Elle est à la fois intimiste et cosmique, européenne et africaine, intégrant Nord et Sud. Elle est autobiographique, non au sens anecdotique, mais au sens large et intemporel, tout en restant fortement ancrée dans l'espace et dans le temps. Ses trois principaux romans, Sang Mêlé ou ton fils Léopold, Le Cap des Illusions  (éditions du Griot, Paris 1990 et 1991), et Eclipse sur le lac Tanganyika  sont des variations sur le thème de l'identification à un lieu d'enfance, lieu de mémoire devenu espace de la vie intérieure, de l'imaginaire et du mythe: l'Afrique. De ce point de vue, le premier roman est le plus remarquable et le plus frappant."
- Charles Picqué, Ministre-Président, sur 'Sang Mêlé', in La Libre Belgique.
"... J'aime ces romans qui se déroulent sur fond historique, ici la période coloniale et post-coloniale. Les personnages dans 'Sang mêlé' sont complexes et d'une intériorité surprenante."
A propos du recueil bilingue de poésie d'Albert Russo,
in 'Europe Plurilingue', par Jean Luc Breton
"les poèmes d'Albert Russo sont l'exploration des jeux humains (le spectacle de ce qu'on appelle aujourd'hui le virtuel, les jeux de rôle, ]'amour, la mort) et de toute la gamme des attitudes auxquelles I'homme a recours pour contrer le hasard (depuis les souvenirs de la femme aimée jusqu'à la réduction au silence des indiens d'Amérique ou au meurtre d'une poupée martyre).
Albert Russo nous tend donc un miroir et nous y fait voir notre propre inconfort face à I'altérité, technologique, humain ou, plus angoissant encore, l'étranger en nous-mémes.  Cette révélation ne peut faire l'économie d'une évocation persistante de jeux de masquage, manifeste dans les titres des poèmes déjà ("Dramatis Personae", "L'Art de la Mascarade", "Vengeance par Procuration"), également présente dans l'étrangeté du vocabulaire.  La langue d'Albert Russo est une langue simple dans laquelle certains termes recherchés, familiers ou bien dotés d'un sens dérivé, et les tournures vieillies ("whether it be", "erstwhile", "presqu'engageant", "jusques à la cime"), créent une distance accrocheuse.  Ce qui symbolise le mieux notre rapport au monde et partant notre rapport aux autres, c'est évidemment ce qu'on en dit et comment on le dit.  Le langage est à la fois instrument d'asservissement et instrument de libération.
-'Zapinette Vidéo', Gilles Perrault, auteur de 'L'Orchestre Rouge', de 'Paris sous l'Occupation' et de 'Notre ami le roi': "Ce roman hilarant est aussi un conte moral comme on en écrivait si bien au dix-huitième siècle. Votre Zapinette est un merveilleux personnage. Vous lui prêtez une langue cocasse, drue, d'une constante invention verbale. Bref, c'est un enchantement. Merci encore de m'avoir procuré ce grand bonheur de lecture. Avec amitié, Gilles Perrault".
- 'Zapinette Vidéo', in Le Mensuel Littéraire et Poétique (Bruxelles):
 "Le style du journal de Zapinette (j'aurais presque envie de parler de "mémoires") et la première syllabe de son surnom nous font immanquablement penser à une autre de ces gamines à la fois charmantes et horribles, enfants sages mais incorrigibles bavardes, qui portent sur le monde un regard sans concession et totalement franc, le regard aigre-doux de la satire. Comme Zazie, Zapinette joue avec le langage, s'y vautre et le piétine, pour notre plus grand bonheur."
Albert Russo: "A Poetic Biography / Biographie Poétique", en 2 tomes, 
Xlibris (USA) : 80 pages .
http://www2.xlibris.com/bookstore/bookdisplay.asp?bookid=28870
http://www2.xlibris.com/bookstore/bookdisplay.asp?bookid=33356
Albert Russo nous propose cette fois-ci une « biographie poétique . » Il s'agit d'un recueil de photographies en noir et blanc et en couleur accompagnées d'un texte poétique en anglais et en français rédigé par Eric Tessier . Il nous conte donc, en images, l'histoire d'une famille, celle d'Albert Russo, chaque photo constituant une biographie visuelle . Il aime photographier ses proches : tableau de famille, portraits, instantanés . Le temps et l'espace se fixent tout en dévoilant l'intimité de chacun .
Les parents : l'Anglaise élevée en Rhodésie, l'Italien de l'île de Rhodes, qui fondent une famille au Congo (pp.5-6) . Photos en noir et blanc : regard tendre du photographe, ces photos ne semblent pas être construites dans un but esthétique, elles s'inspirent davantage de la vie de famille : on pose avec joie ou bonheur, autour d'un pique-nique dominical après une longue promenade à bord d'une « voiture[qui] tanguait comme un paquebot . » (p.14)Heureuse vie de famille !
Albert Russo revient souvent sur l'univers de son enfance : photos qui sont un peu comme des fenêtres qui s'ouvrent dans sa mémoire :
                                   « L'enfance n'est jamais très loin
                                   On ne doit jamais l'oublier. 
                                   En ce qui me concerne, la mienne est sur mon bureau. » (p.62)
Ces fenêtres s'ouvrent aussi sur des êtres chers, chaque photo constituant souvent une biographie visuelle, une vie privée, une photographie de l'intime, ces photos parlant d'elles-mêmes :
                                      « Chaque génération est un lien . » (p.52)
                                      « Chaque personne est un lien . » (p. 53)
Mais l'enfant grandit, il faut poursuivre son chemin et parcourir le monde , l'Europe : au pays des Helvètes, la neige et le ski . Que de joies loin du lac Tanganyika ! Il y a aussi Paris, « the city of light » (p.39), Heidelberg, l'Europe d'au delà du rideau de fer, d'au delà du Mur, de l'Europe, coupée en deux à Berlin (p.42), l'Afrique du Sud : sous le projecteur solaire, on se perd dans l'immensité bleue de la mer et du ciel, tous deux confondus : « Capetown, by the sea […] Premise of the anti-apartheid novel : Le Cap Des Illusions » (p73) .
Albert Russo l'Africain, en route pour New York, la difficile adaptation, de la jungle tropicale à la jungle de béton, l'imposante Broadway et son lumineux tatouage étincelant sous les feux de Times Square, le poète, le créateur (L'université , Greenwich Village) fait ses débuts, débuts prometteurs : admiré par James Baldwin, l'amie Toni Morisson pourrait être aussi bonne conseillère . La célébrité se profile : juré du Neustadt Prize : « My World spells Literature »(p.45), lauréat du British Diversity Award,(p.46), mais l'écriture est un travail difficile et douloureux . Il faut, sans discontinuer, écrire et réécrire, « sans cesse, remettre sur le métier son ouvrage » . Dans quelle langue ? L'une et l'autre, car notre écrivain bilingue est citoyen du monde . 
Albert Russo rassemble des souvenirs, il célèbre, à sa manière, le retour aux sources, sous un angle intime et personnel, il s'agit d'une intimité autobiographique . Il immortalise sa famille et des événements qui ponctuent la vie de certains de ses membres ainsi que de lui-même au travers de photos qu'il aime . Il porte un regard rassurant et nostalgique .
Délicate construction, poétique et tendre, richesses des photos . Albert Russo le photographe et le poète bilingue nous enchante .
Brigitte Gabbaï    publié dans Le Mensuel Littéraire et Poétique 
Albert Russo, "City of lovers / City of wonder - Parie la Grosse Pomme" - Xlibris 2007, 80 pages. édtition de luxe: $ 32,99 ou €  30 - édition ordinaire: $ 26,99 ou €  25
commandes: www2.xlibris.com/bookstore/bookdisplay.asp?bookid=36216
Albert Russo, l'écrivain, le poète, est parti, cette fois-ci, en photographe à la rencontre de Paris et de New York . Il nous promène à New York comme à Paris d'une manière qui lui est toute personnelle . Séduit par ces deux villes de légende, cet adepte de la promenade active les parcourt non en voyageur mais en habitant . Albert Russo sait prendre un certain recul, le regard sait où s'attarder, l'œil curieux du photographe saisit un  fragment d'action , une personne , un objet .
Il s'agit d'un recueil de clichés pour la plupart pris dans la rue et notre photographe n'est pas un photographe des rues vides, la rue est un théâtre  où « jouent » des passants anonymes . L'ouvrage alterne scènes de rues et vues d'architectures : verticalité de New York et horizontalité de Paris, vision non exhaustive car ces villes sont toutes deux difficiles à résumer .
Nous feuilletons ce carnet de voyages et voyageons ainsi entre Paris et New York : constants va-et-vient . Promenades et paysages de rues (pp.62-63). Paris , New York, villes fleuries (pp. 42-43). Terrasses de café parisiennes, farniente et joie de vivre, marchands ambulants, boissons alignées, exposées sur des chariots à l'ombre d'un parasol publicitaire qui vante une marque de saucisse : nous sommes au pays du hot-dog et de la restauration rapide (p.34-35). Tavernes, pubs, restaurants pour un « Paris sur Tamise » mais c'est l'heure du cocktail dans un bar de Times Square : bouteilles et  flacons sont incrustés dans une tour ronde, en bois, surmontée d'une horloge digne de celle de Grand Central (pp.50-51) . 
Quartiers paisibles, « mews » : ruelles, ancienne écuries, volets et fenêtres à guillotines , feuillage rampant qui s'accroche aux façades des maisons new yorkaises . Etoffe de feuillage pour habiller des fenêtres à la française, tapis de verdure qui recouvre  les murs (pp.2-3) . Larges artères d'eau, on se promène sur la Seine en bateau-mouche, on emprunte un taxi fluvial sur l'Hudson ou sur l'East River (pp.44-45) .
Kiosques à journaux . Quelles sont les dernières nouvelles ? A Paris, les magazines sont exposés en vitrine . A New York, sodas, eaux minérales et sucreries sont mis en vente 24 heures sur 24, le distributeur de billets est perpétuellement disponible, le dollar est roi ! Mais où sont les journaux ? Ils sont discrètement rangés tels des rouleaux de tissus sur une table roulante . Va-t-on bientôt servir le thé ? (pp.20-21).
Notre écrivain–photographe entretient une relation affective à ces deux villes . La photo est ici une seconde écriture .
Albert Russo a su capter l'énergie qui circule à New York, ville-pays tout en couleur, tout en mouvement et il a su montrer la plastique qui s'affiche à Paris .  Il a su photographier, dans ces deux cités, des lieux de rencontres  qui montrent ce qui se passe «ailleurs.» Il aime toutes sortes d'images . Il s'agit d'un travail talentueux qui vise à constituer une mémoire visuelle . Les cadrages sont parfaits, les photos sont claires et lumineuses .
Bon voyage dans « la ville qui ne dort jamais » et dans la Ville lumière !
                                                                                          Brigitte Gabbaï 
A propos de Incandescences:
"J'ai lu les récits que vous avez bien voulu me confier, et j'y ai trouvé beaucoup d'imagination, de sensibilité et de qualité de style. En particulier, vous savez fort bien traduire l'Afrique et la situer sur son vrai plan par rapport à nous qui n 'y sommes pas nés, mais qui l'aimons un peu comme si nous ne pouvions pas échapper à ses sortilèges." Michel Droit 
"Ce qui m'a surtout impressionné est la variété des textes contenus dans ce recueil, ainsi que la grande qualité de style. J'ai le sentiment que l'auteur de ce livre produira un jour une oeuvre importante"  Douglas Parmée, Professeur de Littérature Française, Queen's College, Cambridge.
A propos de Eclats de Malachite (Editions Pierre Deméyère, Bruxelles):
 "...l'ensemble touche à la lecture par la ferme expression d'un esprit parfois désabusé, mais toujours généreusement tourmenté."  Nouvelles Littéraires, Paris.
"L'air, le paysage, la lumière, un certain mode de vie: tout y exprime la justesse douloureuse d'un univers aboli que tant d'êtres regrettent avec une inguérissable nostalgie... Nourri d'expériences multiples, d'émotions qui se bousculent et bousculent son écriture, Albert Russo doit trouver unité intérieure et simplicité"  Georges Sion, de l'Académie Goncourt, Le Soir. Bruxelles.
"Ce livre est écrit comme un exorcisme et une confession, dans un langage proustien... Tel quel, il est envoûtant et dévoile un talent certain." Jeune Afrique 
"Le message humain, c'est cela le 'fétiche' qui fait vibrer l'ouvrage d'Albert Russo... Une oeuvre retentissante."  La Dépêche de Lubumbashi, Zaïre
"La nostalgie de l'enfance décrite par un grand écrivain: Albert Russo. Retenez bien ce nom. On en reparlera."  Jean-Claude Bourret, Vie et Succès, Paris.
Opinions: "Je ne peux résister au plaisir de vous féliciter. Tout cela est excellent. J'ai beaucoup aimé vos poèmes." Robert Goffin.
"Il y a là une façon de conter qui va comme une rivière souterraine qui affleurerait de temps en temps pour replonger aussitôt. Pensée allusive, langue souvent trop chargée (comme cette nature tropicale dont vous parlez si bien), mots et images parfois maniérés, tout cela contribue à créer un climat chaud et blessé, un climat troublant. On ne l'oublie pas... dès les premières pages, on sent un ton nouveau auquel on ne peut rester indifférent."
Paul Willems, écrivain et Directeur du Musée des Beaux-Arts (Bruxelles) 
A propos du Cap des Illusions, Editions du Griot, Paris (la première version du livre fut publiée sous le titre La Pointe du Diable aux Editions Pierre Deméyère, Bruxelles):
"Avec ce roman, il ne fait pas l'ombre d 'un doute que Russo acquiert une gloire parmi les valeurs sûres de la littérature d 'aujourd 'hui. L'oeuvre va loin. Tout en traitant l'un des problèmes les plus angoissants de notre temps dont on se demande pourquoi ils se posent, l'auteur nous arrache de l'arsenal de la réalité pour nous poser dans celui de la poésie. Non de cette poésie faite pour sa satisfaction, mais de celle-Ià même qui est création, participation."
Revue Zaïre, Kinshasa 
"C'est en Afrique du Sud que l'auteur situe l'action d'un excellent roman... drame du racisme sud-africain." Nouvelles Littéraire, Robert Cornevin, historien, Directeur de la Documentation Française et Président de l'A.D.E.L.F. 
"C'est un roman où la sensibilité le dispute à la qualité des descriptions dans la peinture de l'un des plus graves problèmes humains de notre siècle." Culture Française, Paris
"Dans un style très personnel, Russo dénonce la honte de l'Apartheid qui se poursuit sous l'oeil indifférent des nations, et parle en poète de la beauté de cette terre d'Afrique."
Tribune juive, Paris.
"Son héros, Michael, s'éprend de Prudence, pas très jolie avec ses cheveux crépus, mais bouleversante dans sa détresse parmi ces 'oubliés de Dieu à la peau contrariante', se débattant dans sa geôle pigmentaire." Revue de l'Afrique.
"C'est de l'Apartheid qu'il s'agit ici, cette maladie honteuse d'Afrique du Sud, ce racisme institutionnel, froid, aseptique et 'comme venu d'ailleurs'. Il constitue la trame d'un roman poétique, et tendre, et sensuel. Ces pages sont celles d'un poète blessé dans sa chair par les griffes d'une société bête et féroce." Serge Zeyons, La Vie Ouvrière, Paris. 
Opinions: "Je viens de lire les deux volumes que vous m'avez envoyés et leur ton m'a beaucoup touché" Joseph Kessel, de l'Académie Française. 
"Pierre Emmanuel (de l'Académie Française) tient à vous dire le plaisir qu'il a eu à lire ces pages à la fois difficiles, sensuelles et pleines d'humour." 
"Vous avez - cela saute aux yeux - la qualité première du conteur (très rare dans la littérature 'cérébrale' d'aujourd'hui), une très riche sensualité, toujours en éveil, vous écrivez avec vos sens. Le lecteur, bientôt séduit, voit par vos yeux, entend par vos oreilles... Votre roman est aussi plein d'odeurs (comme l'est l'Afrique) ce que, hélas, on ne peut pas dire de beaucoup de romans." Daniel Gillès. 
James Baldwin: "J'aime votre écriture, car dans un style policé vous exprimez des sentiments violents, faisant éclater des vérités terrifiantes, Vous dérangez sans en avoir l'air."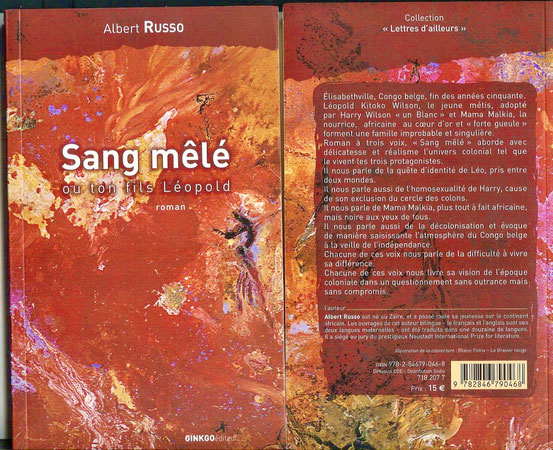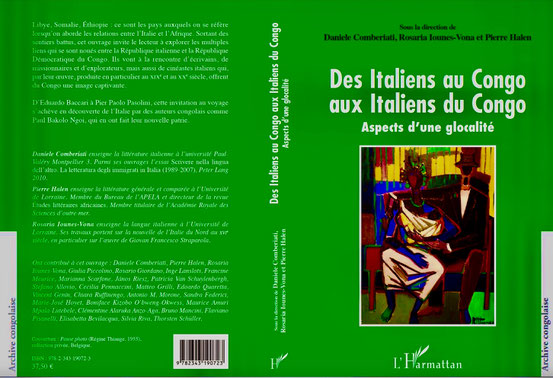 ITALIANITÉ RHODIOTE ET MÉTISSAGE AFRICAIN DANS SANG MÊLÉ D'ALBERT RUSSO - essai paru dans le livre 'Des Italiens au Congo aux Italiens du Congo, aspects d'une Glocalité', publié par l'Harmattan, Paris, en février 2020.
SANG MÊLÉ, le livre-phare d'Albert Russo, a eu plus de 18 éditions, en français, en anglais et en italien; il a été étudié à la Sorbonne, ainsi que dans des universités américaines, congolaises et indiennes.
Maurice AMURI Mpala-Lutebele - Université de Lubumbashi, RDC            
Pierre HALEN - Université de Lorraine, France                            
Voir la table des matières sur ce lien : https://listesocius.hypotheses.org/9064
Lire un extrait : http://liseuse.harmattan.fr/978-2-343-19072-3

Les relations de l'Italie avec l'Afrique centrale, particulièrement avec le Congo, passent également par les représentations littéraires. Si ces dernières sont susceptibles de s'inscrire dans les « débats internationaux suscités par l'État léopoldien et [...] exploitent les rêveries exotiques et d'autres aventures liées au cadre de la forêt primitive », comme l'indique l'argumentaire de ce colloque, l'œuvre romanesque d'Albert Russo s'inscrit quant à elle dans de tout autres débats, et notamment dans les questions relatives à la rencontre des cultures dans un contexte de globalisation. Le fait est qu'il s'agit d'une œuvre relativement récente, à divers égards post-coloniale, et qu'elle présente plusieurs aspects singuliers. Outre la dimension interculturelle déjà mention- née, ne
retenons ici que deux d'entre eux : d'abord, cette œuvre se ressent de l'expérience des Italiens provenant des îles de la mer Égée, particulièrement des communautés sépharades de l'île de Rhodes ; cette origine semble bien avoir constitué un fait inspirateur, et comme un cadre de pensée pour Albert Russo qui est lui-même un descendant direct de ce groupe social. Ensuite, cette œuvre prend à plusieurs reprises pour sujet et pour décor socio-historique l'établissement de ce groupe au Katanga, dans un contexte à divers égards étranger puisqu'il est à la fois congolais et francophone, et, selon les époques,
1 Voir : http://mukanda.univ-lorraine.fr/auteurs/ maurice-amuri-mpala-lutebele
colonial belge ou post-colonial. Dès lors, on conçoit que la question de l'Autre – qu'il s'agisse des différentes mémoires en concurrence ou des partenariats à négocier dans la vie urbaine – soit centrale dans les grands romans d'Albert Russo, notamment dans Sang mêlé en 1990, le roman auquel nous nous attacherons spécialement, mais aussi dans L'Ancêtre noire en 2003, et dans Exils africains en 2010.
« Né au [Congo-belge] de père italien et de mère anglaise, [Albert Russo] passe toute sa jeunesse sur le continent africain, entre l'ex-Congo belge, l'Afrique du Sud et le Burundi » . Toute son enfance et son adolescence, jusqu'à son départ pour l'université aux États-Unis, ont donc pour cadre  l'Afrique centrale, du Sud-Katanga au Tanganyka . S'il a aussi été, plus tard,  un grand voyageur de par le monde, le fait est que les univers diégétiques de ses grands romans sont situés en Afrique, et notamment au Katanga, la province congolaise qui l'a vu naître en 1943 à Kamina, et puis grandir dans un contexte colonial finissant, encore structuré par des différences à outrance, mais qui vacille et s'ouvre à autre chose. À l'instar d'un Le Clézio qui spécule à propos de « l'Africain » qu'était son père, Albert Russo fonde lui aussi, consciemment ou inconsciemment, une grande partie de sa vision de l'huma- nité sur son expérience africaine, vécue comme une expérience de la diversité.
RUSSO (Albert), Sang mêlé ou ton fils Léopold [1990]. Paris : France-Loisirs, 1991, 264 p. ; prière d'insérer. Nos citations renverront à l'édition originale : Sang mêlé ou ton fils Léopold. [Préface de Michel Fabre]. Boulogne :
Éditions du Griot, 1990, 258 p. ; en abrégé : SM. Le roman a été traduit en italien : Sangue misto. Traduzione di Marco Dorner. Roma : Coniglio editore, 2008, 208 p. ; Idem. Postfazione di Michel Fabre. Roma : Elliott, coll. Scatti, 2016, 178 p. 

« Renseignements sur mon père italien, Moïse Russo, et ma mère britannique, Sarah : mon père, né Italien à Rhodes (sous occupation italienne après la chute de l'empire ottoman) en 1910, est arrivé au Congo à 16 ans. Il a travaillé pour Amato Frères à Kamina, à Luluabourg, à Jadotville, à Élisabethville, puis s'est associé en 1950 avec son frère Jacques et Léon Hasson, dit le Turc, avec magasin de gros, boutique pour dames, Diana, et usine de sous- vêtements dans le quartier industriel de Lubumbashi (ex- Élisabethville). Après des démêlés avec ses associés, ma famille s'est transférée à Bujumbura (Burundi) en 1955, où elle a repris une affaire mal en point, que, à force de travail, elle a fait prospérer. Ce qui est devenu "M.A. Russo". Ma mère et mes sœurs ont émigré en Italie en 1959, tandis que moi, je suis resté à Bujumbura pour terminer ma Rhétorique (Bac belge), puis je suis allé faire mes études universitaires à New York. Mon père est resté encore de nombreuses années à Bujumbura  jusque dans les années 1975-1978. Ma mère, Sarah, a grandi en Rhodésie/Zimbabwe, a fait un voyage à Élisabethville/Lubumbashi en 1941, y a rencontré mon père et ils se sont mariés à É'Ville, en 1942. Moi, je suis né à Kamina en 1943, ma sœur Rachel, à Jadotville en 1946, et ma sœur Irène à É'Ville/Lushi en 1949. Je suis donc né Italien, puis mon père nous a tous naturalisés belges. Nous recevions les personnes de toutes races et religions à la maison. Et moi, pendant six ans, j'ai fréquenté à Bujumbura l'Athénée Royal Interracial, avec dans ma classe des Blancs, des Tutsi, des Hutu, des Congolais, des Pakistanais, des Arabes (en minorité, il est vrai, mais c'était une "révolution"). Ces éléments et cette situation à la fois familiale et scolaire m'ont ouvert au monde et à l'acceptation de toutes les différences à une époque où la ségrégation raciale était un fait ». (Correspondance d'Albert Russo du 15 octobre 2014).  C'est elle qui lui inspire un discours à propos de la complémentarité des cultures et de leur enrichissement réciproque : toutes lui parissent en effet nécessaires à l'accomplissement d'« une humanité pas tout à fait déchue » (comme il l'écrit dans une de ses premières publications, significativement intitulée Éclats de malachite. D'où la poétique et en même temps l'éthique du métissage qui seront, vingt ans plus tard, au cœur du roman Sang mêlé, comme nous allons le voir. Avant cela, ajoutons que le mélange est, d'une manière générale, la figure essentielle de l'œuvre, ne serait-ce que parce que celle-ci est écrite en deux langues (le français et l'anglais, l'auteur s'auto- traduisant), mais aussi parce qu'elle touche à de très nombreux genres et supports, de la poésie à la photographie en passant par le roman pour la jeunesse et la chronique, et même le cinéma .
Trois voix pour mettre en situation les différences
Sang mêlé est une fiction : on y raconte l'histoire de Harry Wilson, un Américain de la banlieue de Baltimore, qui immigre au Congo belge vers la fin des années trente à la suite d'une grave mésentente avec son père : « cet homme a gâché mon existence » (SM, p. 145), écrit-il. S'il arrive au Congo, c'est qu'il espère y être rejoint par son amant, qui a des projets missionnaires, mais celui-ci, mobilisé, meurt sur le front en Normandie. Installé à Élisabeth- ville, aujourd'hui Lubumbashi, où il se consacre à des activités commerciales privées, Harry Wilson vit une migrance marquée par divers rapports avec une nouvelle société, de nouvelles langues et de nouveaux modes de vie : en somme, une interculturalité, et celle-ci sera racontée, après qu'un narrateur à la troisième personne aura introduit le roman, par plusieurs voix.
D'abord la voix de Wilson lui-même : « comment pourrais-je oublier ma première semaine à Élisabethville ? » (SM, p. 147), s'exclame-t-il. Se révèlent alors, tour à tour, ses contacts avec la société congolaise : avec Tshikapa, le premier jeune Congolais qui est à son service ; avec Mama Malkia, la gouver- nante congolaise qui tient de main de maître sa maison ; avec Léopold Kitoko Wilson, le petit mulâtre qu'il adopte ; ses relations avec la société européenne aussi, notamment avec Jennie, à la fois sa conseillère et son employée ; et surtout avec ses amants successifs, puisque Harry Wilson a une liaison passionnée avec un Grec, Giorgos, mais aussi une relation plus éphémère avec un jeune Commissaire belge, Éric, et une « passade » avec un pilote rhodésien, Craig. La problématique de l'homosexualité dans une société peu tolérante introduit d'une autre façon celle du respect des différences.
Ensuite, c'est la voix de Mama Malkia, une veuve qui était entrée au service de Harry Wilson peu après que l'Américain se fut établi à Élisa- bethville. Mama Malkia méritait bien son nom qui, en kiswahili, signifie « reine mère ».
4 RUSSO (A.), Éclats de malachite. Bruxelles : Pierre de Meyère, 1971, 171 p. ; p.. 
 5 Pour une bibliographie, consulter : http:// mukanda.univ-lorraine.fr/ - c. 07.10.2019. 
 
[...] Mama Malkia avait un sens inné de l'organisation et m'sieur Harry n'hésitait pas à la consulter. Pour les tâches de la maison, c'est elle qui commandait (SM, p. 22). 
Son service auprès du Blanc Wilson est l'occasion d'un dialogue parfois tumultueux, surtout lorsqu'il est question des liaisons de Harry et de l'éduca- tion de Léopold Kitoko dans ce contexte. Ce dialogue a lieu en même temps entre les cultures occidentales et africaines, puisque Mama Malkia se fait l'écho de ses concitoyens congolais. Ceux-ci, en effet, 
émirent [...] quelques réserves sur l'attitude de m'sieur Harry ; pas tant sur l'adoption de Léo – l'humanité n'était après tout qu'une grande famille –, que sur l'homosexualité du Blanc. [...] Quelle valeur un homme pouvait-il avoir s'il abandonnait le premier de ses devoirs qui était de procréer ? (SM, p. 239). 
La troisième voix, enfin, celle de Léopold Kitoko Wilson, raconte la perplexité d'un jeune homme « pris entre deux mondes », en quête de son identité : « oui, 
papa, avoue-t-il, j'aurais souhaité être uniquement d'une race, et non un café-au-lait. Je me sens, corps et âme, si inadéquat, si inachevé » (SM, p. 127).
Dans l'ensemble, « chacune de ces voix nous parle de la difficulté à vivre sa différence », comme on peut le lire dans le prière d'insérer. Trois voix, trois consciences narratives pour une même réalité, un même drame. Trois voix qui, finalement, deviennent complémentaires pour faire voir une issue : un processus d'acculturation, qui conduit à valoriser le symbole du métissage : le « sang mêlé ». Martine Pretceille nous a rappelé que « les cultures comme les sociétés ne sont pas homogènes » et que « la pluralité et la diversité sont au cœur même de la vie » . Mais les univers sociaux concernés par l'immigration sont ceux où s'affichent le plus, et parfois s'affrontent, mais parfois aussi s'effacent finalement, les différences, ou du moins leur potentiel de division. Que dire alors d'une immigration vécue dans un contexte de colonisation lui-même marqué par beaucoup de stéréotypes et de catégorisations diverses concernant les uns et les autres ?
Dans le roman, la première mise en situation des différences concerne naturellement le premier contact de Wilson avec son nouveau milieu physique où il constate que certaines agglomérations se résumaient à quelques cabanes d'onduline et à une demi- douzaine de huttes éparpillées. On avait l'impression de se trouver dans une autre gala- xie. J'étais à la fois effrayé et fasciné par tant de démesure, et je me demandais si cela n'avait pas été une folie de quitter Baltimore (SM, p. 147). La mise en situation des différences se construit davantage dans les rapports entre colonisateur et colonisé, notamment à travers le « patron » Wilson et la « domestique » Mama Malkia, qui entend bien n'appeler Hary que « M'sieur
6 PRETCEILLE (Martine A.), L'Éducation interculturelle. 4e éd. mise à jour. Paris : PUF, coll. Que sais-je ?, n°3487, 127 p. ; p. 22.
Wilson ». L'attitude de ce dernier, dans ces relations, n'est pas bien vue par d'autres Blancs. En effet, révèle-t-il, les Européens de mes relations furent plongés dans la perplexité, et certains ne purent cacher leur désapprobation lorsqu'ils apprirent que, sur mon initiative, Mama Malkia avait quitté la cité indigène pour venir s'installer chez moi. Cela, tout simplement, ne se faisait pas (SM, p. 164). Qu'une servante indigène s'asseye à leur côté et partage leur repas, cela pouvait à la rigueur se concevoir dans un village de brousse ou dans des fermes isolées, mais pas à Élisabethville ! (SM, p. 46). Comment Wilson pouvait-il se le permettre avec cette servante indigène ! Wilson se retrouve dans une autre situation de différence quand il décide d'adopter un orphelin, décision qui paraît insolite à la fois aux yeux des Blancs et des Noirs : – Ainsi, vous voulez adopter un petit mulâtre ? répéta Janine sur plusieurs tons.
C'était une affaire trop grave pour qu'on s'y engageât à la hâte. Nous en parlâmes très longuement avant de parvenir à une conclusion. Je dis « nous » car sans la compré- hension et le soutien indéfectible de Janine, je ne me serais jamais risqué à prendre une décision d'une telle ampleur. Quant à Mama Malkia, elle crut, lorsque je lui révélai mon projet, que j'avais « perdu la boule » (SM, p. 164).
L'intolérance à l'égard de la différence provient cette fois-là des deux côtés. Elle se prolonge par le rejet que le jeune mulâtre Léopold Kitoko Wilson et son ami Ishaya, Juif sépharade, subissent à l'école, de la part de leurs cama- rades blancs, à cause respectivement de leur couleur de peau (pour Léo qui pâtit aussi d'un double statut de bâtard et d'orphelin) et de leur religion (pour Ishaya). Rapportant une de ses altercations avec un camarade de classe, Léo raconte : « d'après lui, il est même plus que certain que j'irai droit en enfer, parce que je n'ai pas de vrai père ni de vraie mère et que je suis... à moitié noir» (SM, p. 135). Ishaya rapporte une anecdote semblable : « il m'a deman- dé pour quoi je n'allais pas à l'église. Je lui ai expliqué que j'étais juif et que par conséquent je ne pouvais prier qu'à la synagogue » (SM, p. 79).
L'homosexualité de Wilson est également un motif de confrontation des différences dans la mesure où non seulement elle provoque une certaine inhi- bition identitaire chez Wilson lui-même, mais elle est aussi « cause de son exclusion du cercle des colons » (1991, prière d'insérer) tout en apparaissant comme une pathologie aux yeux des Noirs. Wilson tient donc à cacher ses « tendances sexuelles », comme il les appelle, et il ne souhaite pas que son fils adoptif Léopold soit homosexuel : Il a néanmoins le droit de savoir pourquoi je ne me conduis pas comme la plupart des autres hommes. Mon intelligent Léo, il n'est pas dupe. Mais je ne voudrais pas qu'il soit comme moi. Cela le... détruirait (SM, p. 145).
Par ailleurs, se confiant aux membres de sa famille élargie, Mama Malkia leur raconta comment elle en était venue à travailler pour m'sieur Harry, le muzungu américain. Elle ne leur cacha pas le fait qu'il ne couchait pas avec les femmes. Cette révélation lui valut des regards désapprobateurs et déclencha les yo ! yo ! de l'assistance, car le bwana était alors sûrement possédé (SM, p. 185).
Toutes ces mises en situation des différences montrent suffisamment que « les cultures comme les sociétés ne sont pas homogènes [et que] la pluralité et la diversité sont au cœur même de la vie » . Mais alors, comment gérer cette diversité, cette pluralité ? À l'intolérance à l'égard des différences, Albert Russo oppose une poétique du métissage, et sa vision d'une humanisation toujours plus grande des sociétés.
Poétique du métissage 

Dans Exils africains , Albert Russo expose clairement sa conception du
métissage. Quelle attitude adopter, en effet, face au conflit que peut engendrer la cohabitation des différences ? Faut-il renier un côté pour embrasser l'autre exclusivement ? Ou alors se détacher des deux, et ainsi se libérer de toutes les chaînes du passé afin de se forger une personnalité nouvelle ?
(SM, p. 178) Comme le montre ce roman ultérieur 9, Albert Russo choisit la seconde voie, celle d'une acculturation entendue ici non pas comme « assimilation », mais comme « ensemble des phénomènes qui résultent de ce que des groupes d'individus de cultures différentes entrent en contact, continu et direct, avec les changements qui surviennent dans les patrons culturels originaux de l'un  ou des deux groupes » et, en même temps, à souligner la complémentarité entre les groupes. « Seule cette démarche permet de rompre les logiques de violence au sein d'une même société.  Chaque mise en situation apparaît comme un temps fort, un moment de tension du fait de l'affrontement des différences. Albert Russo fait suivre
•
7
interculturelle, op. cit., p. 22. 
 PRETCEILLE (M.A.), L'Éducation 8 RUSSO (A.), Exils africains. Et il y eut David- Kanza. Présentation de Pierre Halen. Paris : 
 Ginkgo éditeur, 2010, 195 p. 
 9 Cf. AMURI M.-L. (Maurice), « Rencontre des cultures et quête d'identité : démystification 

du discours sur l'Autre dans Exils africains d'Albert Russo », in : QUAGHEBEUR (Marc), dir. ; LECLERCQ Nicole), collab., Sagesse et résistance dans les littératures francophones. Bruxelles : P.I.E.-Peter Lang, coll. Documents pour l'Histoire des Francophonies, n°47, 631 p. ; p. 357-372. 
 10 J. Redfield et alii, cités in : PRETCEILLE (M.A.), L'Éducation interculturelle, op. cit., p. 13. 11 BLU (D.), « Introduction », in : ALBERT (Odile) ; FLÉCHEUX (Laurence), dir., Se former à l'interculturel : expériences et propositions. Paris : Éd. Charles Léopold Mayer, coll. 
 Dossier pour un débat, 2000, 140 p. ; p. 9. 
 
.Cela conduit à minimiser les différences culturelles  société ou entre deux sociétés que l'on tente de poser en rivales »

Ce processus d'acculturation est représenté dans  Sang mêlé par des procédés romanesques caractéristiques : une narration basée sur une alternance de tension et de détente, une polyphonie singulière et un mélange de  genres significatif. Une alternance de tension et de détente  chacun de ces temps forts d'une détente, d'un compromis, d'une sorte de réconciliation vécue par de nouvelles identités qui relativisent les différences sans les effacer. Cette dédramatisation permet de réunir les hommes de cultu- res différentes et chaque tension est dès lors neutralisée par une forme de réunion.
Ainsi, l'Afrique, d'abord représentée par des stéréotypes tels que des lions qui se promènent dans la rue, des serpents et des scorpions dans tous les coins, etc., se révèle ensuite une sorte de paradis à l'arrivée de Wilson : « Élisabeth- ville fut une agréable surprise, s'exclame-t-il. Je découvris une ville coquette avec ses maisons aux vérandas enlacées de bougainvillées écarlates ou oran- gées, ses avenues bordées de flamboyants et de jacarandas » (SM, p. 147). Plus tard, quand sa sœur Clara, restée à Baltimore, « vit des photos récentes d'Éli- sabethville, elle n'en revint pas. Il existait donc en pleine Afrique, aux abords de la jungle, des villes aux avenues asphaltées, aux grands bâtiments moder- nes, avec des jardins à la française, des cinémas et même des théâtres ! » (SM, p. 94). Ses exclamations révèlent finalement que la connaissance de l'Autre détruit les préjugés ; comme on va le voir, elle conduit aussi à la connaissance de soi-même, en permettant donc une nouvelle identité.
Les rapports entre colons et colonisés sont, quant à eux, figurés de manière paradoxale (au sens littéral du mot) par les deux personnages du bienveillant Wilson et de Mama Malkia « plus tout à fait africaine, mais noire aux yeux de tous » (1991, prière d'insérer). En effet, « les rapports unissant Mama Malkia et Harry Wilson étaient inhabituels à la colonie. Entre eux s'étaient tissés des liens d'authentique tendresse, voire de connivence » (SM, p. 25). Une conni- vence qui se réalise au-delà des désaccords qui demeurent :
non que tout allât sans accrochages entre Mama Malkia et moi. Je la trouvais autoritaire, ses manières étaient un peu rudes, et elle fourrait son nez partout. Elle m'appelait « m'sieur » au lieu de « bwana » et elle avait eu le toupet de me dire que je n'étais pas un homme à femmes (SM, p. 163).
La mise en situation d'un patron quelque peu soumis et d'une servante autoritaire débouche plutôt ici sur un compromis, sur une sincère collaboration de deux sensibilités complémentaires pour fonder une communauté unie, une « famille » où Mama Malkia joue pleinement son rôle de « mère ». Wilson le reconnaît quand il se rassure au sujet de l'épanouissement de son fils adoptif : « après tout, il a Mama Malkia, et c'est une mère irréprochable » (SM, p. 144). Que Wilson et Mama Malkia transcendent en quelque sorte leur statut respectif interpelle forcément leurs milieux. Albert Russo explique l'évolution du premier en évoquant l'attitude de Janine, une Blanche, envers les enfants noirs : son amour des enfants était si authentique qu'il ignorait les barrières raciales. Ainsi elle arrêtait une Négresse dans la rue avec un bébé au dos et, lui caressant la joue, elle disait : "l'adorable poupou" [...]. L'attitude de Janine à l'égard des enfants noirs déclencha en moi un élan dont l'issue fut irréversible (SM, p. 161-162). « Irréversible », reconnaît Wilson, dans la mesure où sa « relation avec l'élé- ment primordial du continent noir, [avec] son peuple » (SM, p. 183), demeurée jusque-là latente, est devenue en lui une préoccupation consciente : les Mama Malkia de ce pays, [déclare Wilson,] pourraient nous donner à nous, diables d'étrangers, plus d'une leçon. Car eux aussi nous voient comme de drôles d'oiseaux se conduisant de la façon la plus extravagante. [...] Le jour où, forts de leurs traditions, ils auront aussi maîtrisé le sens de nos comportements, il nous faudra veiller à compter avec eux (SM, p. 183-184). Au lieu de voir les Autres, de manière exotique, comme de « drôles d'oiseaux », il faut donc « compter avec eux » : cela paraît limpide. Le qualifi- catif d'« irréversible » a aussi un sens tout particulier dans la mesure où Wilson adopte Léo en dépit du regard discriminatoire des uns et des autres. Il ne regrette pas ce choix qui donne plutôt un sens à sa vie : ai-je été trop égoïste, orgueilleux ou simplement naïf en pensant que, par l'adoption de Léo, je pourrais changer quelque chose à la société ? / J'ai probablement été tout cela. Mais personne ne pourra me faire regretter ce choix. Oui, j'ai pris un risque immense et il me faudra beaucoup de courage. C'est parfois effrayant, mais Léo est tout ce pour quoi je me bats (SM, p. 144). Wilson se réalise ainsi dans l'Autre : « cet enfant figure déjà à mes yeux un autre moi-même ; non pas un double, mais un être que je m'appliquerai à rendre plus achevé, plus parfait » (SM, p. 165). Non seulement l'adoption traduit ici une vocation de paternité sans frontière raciale, mais elle exprime surtout cette capacité humaine d'aller au-delà de toute différence pour s'épa- nouir avec l'Autre, en l'Autre ; il est à noter cependant que celui-ci est moins considéré comme tel que comme un « être humain », donc un semblable : « père novice, je viens à peine de découvrir ma nouvelle vocation, celle de donner à Léo tous les moyens qu'il faut à un être humain pour atteindre le bonheur. Tâche difficile mais ô combien passionnante ! » (SM, p. 171). La neutralisation de la différence vécue par le petit mulâtre dans l'école des enfants blancs se retrouve, comme en miroir, dans l'heureuse expérience de Piet, un enfant blanc inscrit dans l'école des Noirs, et dont le prénom connote une identité néerlandophone. Piet fréquentait l'école d'une mission catholique voisine dont il était le seul élève européen. Ses parents ne voulaient pas l'envoyer à la ville en internat, arguant que le seul moyen pour [lui] de ne pas se sentir exclu parmi ses camarades congolais était d'apprendre leur idiome (SM, p. 108).
Encore une fois, il est question ici de combattre l'exclusion par l'intégration : « Piet, avec l'accord de ses parents, avait délaissé une part de son héritage flamand pour vivre à la congolaise » (SM, p. 112), la meilleure manière de devenir un « sang mêlé » culturellement. Piet apparaît alors comme un autre symbole du métissage culturel. Cependant, parce qu'il pratique dès lors couramment le kiswahili avec Ishayah, ceci installe une barrière entre Léo et les deux « Congolais blancs » qui le laissent à l'écart et se sont, en quelque sorte, davantage enracinés localement que lui : on peut tout intégrer, il y a des choix à faire qui sont aussi des séparations même s'ils sont des mélanges.
La différence que crée l'homosexualité de Wilson apporte, quant à elle, plus de questions que de réponses. Elle n'est pas le résultat d'une décision volontaire comme celle de l'adoption, mais elle demande tout de même aussi une sorte de conversion puisque l'individu doit se découvrir et s'accepter lui- même. Parlant de ce qu'il ressent envers son premier amant John, Wilson confesse : personne jusqu'ici n'avait occupé dans mon cœur une aussi grande place. Et c'était là, dans cette chambre, en cet instant, que cela me fut révélé. La lutte contre mes instincts, cette épreuve d'endurance, valait bien la peine d'être sacrifiée. [...] Nous échangeâmes un autre baiser et le soleil nous surprit dans les bras l'un dans l'autre. Les choses allèrent rapidement. Que nos destins fussent désormais liés, était une évidence (SM, p. 177).
Cette révélation semble naturelle, et pourtant Wilson ne donne pas l'impression d'être naturel dans l'accomplissement de ce « destin », surtout quand il ne veut pas que son fils adoptif soit comme lui. Cela le détruirait, dit-il. Mais « pourquoi en serait-il détruit ? » (SM, p. 145), s'interroge-t-il par la suite. dans l'enthousiasme de l'amour qui est comme béni par le soleil, d'autres interrogations concrètes sont également soulevées, notamment à propos du devoir de procréation, à propos de conviction religieuse, etc. La neutralisation de la différence est souhaitée, mais il reste, dans la société, une intolérance comme le montre ce propos du petit mulâtre, s'adressant à son père : quelqu'un, je ne sais plus qui, t'a traité de pédéraste. Cela m'a bouleversé, et j'ai cherché le mot dans le dictionnaire. Mais pour tout l'or du monde, je ne voudrais pas d'autre papa, mon papa... Certains croient que tu es né... pour ainsi dire handicapé, mais tu ne leur prêtes pas attention. Tu estimes que c'est une question de conscience, si intime, que, même moi, j'aurai à prendre une décision sur ce point. Tu affirmes n'avoir pas eu le choix. [...] Papa, cessons ce discours, mon cœur va éclater (SM, p. 221-222).
La neutralisation de la différence se cherche encore, semble dire Albert Russo par ces questions restées en suspens, ce tourment intérieur. C'est sans doute qu'il ne faut pas la confondre avec une conciliation totale, mais y voir plutôt une dynamique. À chaque temps fort, donc, sa détente, à chaque conflit des différences sa neutralisation, réalisée ou en cours de réalisation. Albert Russo fait ainsi alter- ner ces deux temps pour suggérer diverses formes de réconciliation, diverses formes d'acceptation de l'Autre. Cette altérité en quelque sorte active, dont nous avons vu qu'elle s'éclairait d'être à la fois subordonnée et éclairée par  L'explication anecdotique est peut-être à trouver dans la souffrance avec laquelle Harry vit, non pas son homosexualité, mais sa passion pour et avec Giorgios, ce dernier se montrant à l'occasion jaloux et violent, ce qui complique inévitablement la vie familiale
Dans le roman, la question demeure posée. Si le principe de l'acceptation des réalités s'impose sans trop de difficultés un principe d'humanité commune, s'entend également dans la diversité des voix du récit.
Une polyphonie singulière
Roman à trois voix (en plus de celle du narrateur), Sang mêlé aborde la question de la différence telle qu'elle est ressentie par un Blanc, un Métis et une Noire. Trois narrateurs impliqués dans l'histoire qu'ils racontent, appor- tant chacun son regard sur la même réalité : la difficulté à vivre la différence. Albert Russo se sert de ces trois consciences narratives pour filtrer la même vision, sa vision : l'hybridation culturelle féconde. En effet, au lieu de se reje- ter, ces trois différences communient au nom du principe commun de l'accep- tation des différences. Blanc, Wilson accepte d'adopter un mulâtre pour qu'il devienne un autre soi-même ; libéral, il accepte l'autoritarisme de Mama Malkia, nécessaire à la construction d'une « famille » unie. Pour tout l'or du monde, Léo ne voudrait pas d'un autre papa, bien que Wilson soit homo- sexuel. Mama Malkia, quant à elle, malgré des regards désapprobateurs des siens, accepte de « cheminer » avec Wilson dans l'adoption de Léopold. Wilson résume bien cette hybridation culturelle féconde quand il dit : « Mama Malkia est, avec moi, le seul être qui puisse lire dans le cœur de Léo. Mais nous venons, elle et moi, de mondes si différents. [...] C'est moi qui ai adopté Léo, mais elle en est devenue la vraie mère, une mère tigresse » (SM, p. 146). Ni les différences à valeur sociale (groupe d'origine, profession, genre sexuel, couleur de peau) ni les différences de caractère n'empêchent donc la construc- tion d'une symbiose (toujours incomplète), ici d'une famille.
En fin de compte, les trois histoires se fondent en une seule, chaque voix se muant en l'autre avec une nouvelle identité : Wilson, Léopold et Mama Malkia ne sont plus uniquement un Blanc, un Mulâtre et une Noire, mais un Blanc, un Métis et une Noire privilégiant ce qui leur est fondamental et prenant chez l'autre ce qui est positif et bénéfique à l'épanouissement de tous. Wilson illustre la mue de ces trois voix en une seule quand il ne sait plus distinguer la sienne de celle de Léopold : mais il m'advenait quelque chose d'étrange tandis que je parlais. On eût dit que je traversais un rêve les yeux grands ouverts. Le silence de Léo résonnait de mes mots. Ce n'était plus ma voix que j'entendais, mais la sienne. L'écho semblait reproduire un monologue inversé, ponctué des rumeurs feutrées qui nous cernaient (SM, p. 220 ; voir aussi p. 127).
On est donc passé de la perception des discours de division, diffusés dans la société par des rumeurs stigmatisant et creusant les différences, à l'adoption de préoccupations communes, mais sans préjudice pour des différences désor- mais vécues d'abord comme une polyphonie, puis comme symphonie comme le suggère cette dernière citation.
Mélange des genres littéraires, accueil des langues
Le mixage est tellement devenu le fondement de la vision d'Albert Russo que son écriture romanesque n'échappe pas au mélange des genres, chacun d'eux apportant une touche particulière à l'ensemble. Alors que toutes les ressources de la prose romanesque de la tradition réaliste sont sollicitées pour mettre en situation les différences sur les plans social, culturel, sexuel, reli- gieux, linguistiques, etc., le roman s'ouvre sur un poème évoquant le jaillisse- ment du métissage. L'expression « sang mêlé » en est le refrain :
[...] // sang mêlé // C'est lui qui gicle dans vos veines / Globules rouges, globules blancs ; / De race il n'y a point, / Ni de ces couleurs qu'inventent les esprits aveugles / Car avant, bien avant les théories darwiniennes / En dépit des calamités historiques / De ces maladies collectives et endémiques // LE SANG déjà avait fait son choix / Du rouge vous vous lassez ? / Pauvres philosopheux, tristes leucémiques / Prêtez donc l'oreille au corps, à sa musique / Ces accords intérieurs, heurtés ou merveilleux / Mais où rien jamais ne meurt // sang mêlé (SM, p. 15).
Le sang (sans majuscule à l'initiale : c'est une réalité commune), a donc « déjà fait son choix / du rouge », ce qui renvoie toutes les séparations de couleur au statut d'inventions par des « esprits aveugles ». Mais aussi, on l'aura noté, c'est la musique autant que le corps qui deviennent les espaces où cette unité, ce « commun » du sang se manifeste par des « accords intérieurs ».
Corps et musique sont des notions qui nous entraînent presque naturel- lement vers la question des langues, si l'on veut bien considérer que chaque langue est comme une musique du corps. L'intégration de Wilson à son nouveau milieu passe
dès le début par la connaissance de la langue de l'Autre ; la suite de son aventure congolaise en sera bien entendu facilitée. A. Russo, à l'instar de tant d'écrivains africains qui utilisent une langue européenne, adop- te lui aussi une forme de bilinguisme, mais dans son écriture, puisque le kiswahili abonde dans le texte et fait, selon les éditions, l'objet de notes ou d'un lexique en fin de volume.
Ajoutons que le genre épistolaire est également mis à profit, surtout pour construire et perpétuer les nouvelles identités : sous forme d'épilogue du récit, les lettres que Wilson et Mama Malkia adressent ainsi à Léo, parti en Améri- que pour ses études, affichent nettement cette intimité que les lettres savent rendre. L'un signe : « ton père qui t'aime, Harry » ; l'autre : « celle de qui ni la foudre ni les montagnes ne pourront te séparer » (SM, p. 255, 258).
De l'œuvre romanesque d'Albert Russo, le mélange est donc un aspect essentiel, qu'il s'agisse des langues, des genres littéraires, des expériences artistiques, des groupes humains, des générations et des lieux, ou des genres au sens sexuel : tous ces traits d'écriture construisent, en somme, une poétique du métissage qui est de toute évidence concertée.
Et l'Italie dans tout ça ?
De l'Italie, il n'a guère été question jusqu'ici, sinon pour signaler que l'auteur était issu de ces familles rhodiotes sépharades, au départ italiennes, que les conditions matérielles difficiles, puis la menace que représentaient le fascisme et son allié nazi avaient poussées vers un nouvel exil durant l'entre- deux- guerres, et cette fois vers des terres non italiennes. Harry Wilson n'est d'ailleurs pas Italien, peut-être parce que l'Italie restait associée à cette mémoire douloureuse, mais cette hypothèse, on le verra, s'avère fragile. Pourquoi alors avoir choisi un États- unien ? Une partie de la réponse tient à la logique narrative : du moment que l'auteur voulait envoyer son personnage (comme dans son propre cas) faire des études supérieures en Amérique, faire de son père adoptif un natif de Baltimore dont la sœur serait prête à accueillir son neveu était une manière de donner de la cohérence à son récit. Cette expli- cation par la biographie a ceci d'intéressant qu'elle suggère que Léo Kitoko est une auto-image au moins partielle de l'auteur, mais toute justification par la biographie ne saurait être que partielle et précaire. Reste donc à expliquer autrement le choix d'une nationalité américaine. Cette américanité est sans doute, pour une part, à mettre en rapport avec une identité katangaise, telle qu'elle s'est imaginée, à partir de la Seconde Guerre mondiale et surtout après 1945, comme « carrefour du monde » , détachable au besoin du monde ancien que semblait de plus en plus être la Métropole. La province, où la présence anglaise avait été initialement très importante, s'était certes autant que possible belgifiée avec les grandes socié- tés dites de 1906 (UMHK, CSK, BCK) et le régime colonial proprement dit, mais, par la force des choses, les relations avec l'Afrique australe anglophone n'ont jamais cessé et la Seconde Guerre mondiale les a encore renforcées avec la présence régulière de « troupes britanniques et sud- africaines » en transit, qu'évoque d'ailleurs le roman (SM, p. 151). Sang mêlé parle à une autre repri- se de ces troupes alliées, lorsque Harry Wilson a un amant nommé Craig Butler, un Rhodésien, type même de l'« Africain blanc », complètement affranchi de l'Europe métropolitaine, mais pas pour autant rapproché des populations autochtones. Or, cette liaison ne dure pas, et l'explication qui en est donnée par Harry à la fin du chapitre « La parenthèse rhodésienne » (SM, p. 179 sq.) est tout sauf anecdotique : « Quel abîme pourtant séparait Craig de Tshikapa ou de Mama Malkia ! » : en d'autres mots, ce n'est pas de ce futur- là, de ségrégation, que Harry veut pour l'Afrique : s'unir à Mama Malkia, même s'il ne s'agit pas d'un couple traditionnel, ouvre une tout autre perspective : mettre au monde cet homme nouveau qu'est Kitoko Léo.
Cf. HALEN (P.), « La première revue Jeune- Afrique, ou les ambivalences d'un projet culturel néo- colonial au Congo belge (1947-1960) », in : VIGH (A.), éd., L'Identité culturelle dans les littératures de langue française. Paris : ACCT ; Pécs : Presses de l'Université de Pécs, 1989, 355 p. ; p.203-216.
Songer à l'Amérique, on le sait, peut aussi nous rapprocher de l'Italie où ce rêve a inspiré nombre de départs au 20e siècle. Ce rêve peut donc bien hanter aussi les Italiens d'Élisabethville/Lubumbashi, qui, pour avoir déjà quitté le sol natal une première fois, ne rêvent pas tous d'y revenir, et l'on comprend que cela puisse être en particulier le cas des ex- Rhodiotes dont beaucoup préfèreront la Belgique, ou d'autres pays encore, lorsqu'ils seront à nouveau contraints de vider les lieux. C'est d'ailleurs le cas de la famille d'Albert Russo . Mais on n'en finit pas si facilement avec l'Italie, dont la présence dans Sang mêlé est d'autant plus significative qu'elle n'est que fort peu justifiée par la fiction.
L'Italie apparaît d'abord avec le personnage d'Ishaya Ben-Aharon, alias « Macaroni timide » (SM, p. 60), jeune condisciple et amical compagnon de Léo Kitoko, victime comme lui, à l'école, d'une exclusion de la part des autres garçons. Au cours d'une conversation entre les deux amis, Ishaya explique son origine rhodiote en accablant les « nazis [qui] avaient déporté ses grands- parents » ; comme le narrateur lui demande si les Italiens « n'étaient pas aussi [leurs] ennemis », Ishaya a cette réponse stéréotypée : « les Italiens sont de braves gens, la guerre ne les intéressait pas beaucoup » (SM, p. 66). Comme on le sait, cette expression très répandue : Italiani brava gente, a été discu- 15 tée , mais ce n'est pas le cas ici.Grâce à Ishaya, l'Italie revient un peu plus loin au cours d'une autre conversation entre les garçons. Ceux-ci passent devant ce qui était alors le « Musée de la Vie Indigène », que Léo Kitoko avait déjà visité lorsqu'il était à l'école primaire (une école Montessori, soit dit en passant). Ishaya raconte alors que l'immeuble avait été transformé en prison au moment de la décla- ration de guerre :
Tous les Italiens d'Élisabethville y avaient été rassemblés et séquestrés en tant que prisonniers de guerre. Leurs familles leur rendaient visite chaque jour avec des paniers pleins de bons petits plats mijotés, de boissons, de fruits et de pâtisseries. Prenant cela plutôt à la rigolade, les reclus passaient leur temps à jouer aux cartes et à s'inventer d'autres diverstissements, sous l'œil complice du gardien. Ils avaient même la permis- sion de recevoir leurs amis pour fêter leur anniversaire. Tu te figures un peu le tableau, au milieu des masques baluba ? s'esclaffa Ishaya. Mon père et les autres Juifs italiens réussirent finalement à convaincre les Autorités belges de les laisser rentrer chez eux, plaidant : « Les nazis sont nos ennemis et vous nous considérez comme vos adversaires. Vous voyez bien que c'est ridicule ! ». Grâce à leur insistance, tous les Italiens furent libérés, y compris les Chrétiens. Il n'y a qu'au cinéma qu'on voit des bouffonneries pareilles. Mon père dit que les Belges ne savaient plus quoi faire pour leur rendre la vie agréable. Si toutes les prisons étaient comme cela ! (SM, p. 80-81).
On peut se demander si le personnage d'Ishaya n'a pas été créé surtout pour permettre à l'auteur d'évoquer des souvenirs personnels, familiaux et « com-
 L'auteur a gardé la nationalité belge, mais il n'a jamais vécu lui-même en Belgique où une partie de sa famille s'est néanmoins installée. 
  Voir notamment : DEL BOCA (Angelo), Italiani, brava gente ? : un mito dura a morire Vicenza : Ed. Neri Pozza, coll. I Colibri, 2005, 318 p. 
 
munautaires » italiens. Le fait est que ce passage ressemble fort à un écho de la mémoire familiale de l'auteur. Un écho sans aucun doute héroïsant pour la communauté juive, qui aurait ainsi sauvé les autres Italiens, quand bien même l'Italie ne les avait guère protégés autrefois, ni de la misère ni de la menace qui pesait sur leur vie.  La présence de l'Italie ne s'arrête pas là : le nom du premier associé de Harry Wilson est « Denola », ce qui ne sonne pas particulièrement belge, mais on n'en sait pas plus. Un Docteur « Marini avec son accent italien » (SM, p. 80) intervient plusieurs fois comme médecin de famille. Plus significatif 
encore : Harry et son fils, cherchant un havre de paix pour se dire des choses importantes, vont se promener dans les parterres de fleurs de la « ferme Spandre », un peu à l'extérieur de la ville, qui était tenue par des colons 16 italiens .
L'Italie et les Italiens (dont certains, les ex-Rhodiotes, parlent espagnol) occupent donc une place très importante dans la représentation qu'Albert Russo donne de la ville où, par ailleurs, les personnages congolais sont nombreux, et quant à eux toujours en lien avec l'intérieur du pays. Les Belges y apparaissent finalement beaucoup moins, sinon sous les aspects opposés d'un missionnaire enseignant du type « dur mais juste », qui semble incarner le passé colonial (il s'appelle Kerkhof, c'est-à-dire « cimetière »), et du blond Commissaire Éric Van Pool, un jeune homme présenté comme faible et peu à sa place, qui pourrait être une image des autorités métropolitaines de l'après-guerre dépassées par les réalités.
En somme, une socialité essentiellement plurielle, dont la diversité est comme garantie et illustrée par les Italiens, surtout les ex-rhodiotes. Le modèle colonial est présenté comme dépassé, le modèle rhodésien de l'« Africain blanc » constitue une séduction aussitôt délaissée : il ne reste qu'à conjuguer les deux destinées de Wilson et de Mama Malkia. Le premier, Américain en rupture d'origine, admire le pragmatisme et la solidité d'Ishayah, qui initie Léo à une double mémoire italienne et juive. La seconde, héritière d'une dynastie de chefs africains, garde un lien avec son village, où elle se réjouit d'ailleurs d'avoir laissé grandir une fille issue de son premier mariage.
16 SM, p. 219-220. Il s'agit de la ferme des parents de Mario Spandre, avocat bien connu notamment pour son activité au Katanga à l'époque de la Sécession, et plus tard à Kinshasa comme Conseiller de Moïse Tshombé premier Ministre ; il plaidera ensuite au Barreau de Bruxelles et, entre autres, témoignera devant la « Commission Lumumba ». 
 
Un troisième Belge est Piet, un garçon du même âge que Léo, fils de fermiers flamands qui ont choisi de le scolariser dans une école congolaise en dehors de la ville, donc en  swahili ; voir, dans ce volume, la contribution d'Edoardo Quaretta à propos des écoles salésiennes. L'aisance de Piet en milieu congolais est enviée par Léo, qui est instruit en français. Le résultat de cette conjugaison est une socialité nouvelle : en prenant en charge les destinées de Kitoko Léo qui, en tant que bâtard orphelin, aurait pu représenter les échecs et les impasses du régime colonial, Harry Wilson et Mama Malkia lui ouvrent en quelque sorte un avenir à la fois moderne et métis. C'est qu'il est pour eux « l'homme de demain » (SM, p. 144), tout en portant le nom d'un ancêtre africain fameux, le grand-père de Mama Malkia

Un contenu symbolique... pour conclure
Exercice de figuration, le roman permet la symbolisation : non pas une sorte d'allégorie abstraite, mais un narratif à haute charge symbolique. Sang mêlé figure ainsi la rencontre des cultures non comme un « choc de civili- sations », mais, sans s'aveugler sur la violence toujours possible, sous le signe d'un métissage qui recommande d'être « le produit non pas d'une culture mais de plusieurs cultures, multiples facettes d'un même diamant »
Le discours d'Albert Russo est clair : la neutralisation des différences installe une dynamique d'apaisement et condamne la culture des préjugés. Au lieu d'être l'objet du regard discriminatoire, l'Autre doit plutôt être le miroir par lequel nous nous réalisons dans une nouvelle identité. C'est la meilleure manière de « mettre à profit la diversité culturelle croissante de nos sociétés, la dynamique inhérente à chaque culture, et [de] créer des synergies pour inventer de nouvelles façons de vivre ensemble et d'organiser la commu- nauté »

Même profession de foi chez Wilson : les gens se prétendent modernes, alors qu'au fond d'eux-mêmes, ils sont pathétiquement rétrogrades. Ils voient le métis, le juif, l'hindou et ils ne perçoivent pas l'être humain. C'est dans le brassage des cultures, dans les mélanges de races, que repose notre avenir (SM, p. 144).
Une telle position dans le discours contemporain semble bien entendu indissociable du modèle que représente la collectivité italienne de ces Juifs rhodiotes devenus Katangais, et se situant ainsi au « carrefour du monde », comme d'aucuns se voyaient déjà, sur place, dans les années 1950. Une « glo- calité » avant l'heure, peut-être, dont on notera qu'elle a été permise par la conjonction de plusieurs marginalités relatives. Dans le roman, Wilson, immi- gré américain, est surtout une figure de l'internationalité, une figure isomor- phe, en somme, à celle des Italiens en Afrique, pas tout à fait « chez eux » dans des pays dont les métropoles n'étaient pas italiennes. Le métis Léo est, dans ce contexte, légèrement extérieur lui aussi aux groupes majoritaires,
Même si le roman n'en parle aucunement, le lecteur ne peut s'empêcher de faire le rapprochement entre son nom et celui de Léopold II. À noter qu'Harry Wilson meurt assassiné par les troupes de l'ONU alors qu'il est sorti de chez lui pour aller dans une pharmacie chercher des médicaments pour Mama Malkia : il incarne ainsi, presque en martyr, la fin du modèle « katangais ». comme l'est Wilson par la sexualité, comme l'est Mama Malkia par son enga- gement dans une famille peu conforme à la tradition. Comme l'est ce français truffé de swahili, ou encore ce roman placé à l'enseigne d'un poème. 


CONTINUATION OF THE VISIT / SUITE DE LA VISITE